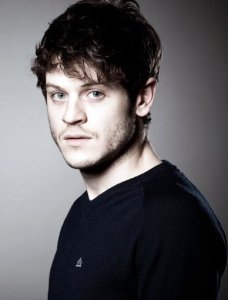 Full Name:
Arthur Colin Peadarsan
Age:
14
Date of birth:
18 January 2005
Birthplace:
Dundee, Scotland
Current home:
Hogwarts during term time, Dundee otherwise.
Blood Status:
Halfblood (very weakly)
Sexual Alignment:
Heterosexual
Wand type:
11", Holly, Unicorn

Hair colour and style:
Dark brown/Black hair, longer than most boys wear their hair, but not so long as to get in his eyes. Normally Artie's hair is brushed as a minimum, and styled if and when he chooses to - normally, though, this means there is something important for him to be going to.
Eye colour:
Blue eyes.
Height:
5 foot 7.
Body type:
Arthur is the kind of boy who doesn't need to do much sport, his metabolism is relatively high, and thus keeps his body in an average kind of build. He is not highly muscular due to his disinterest in sports, but he also isn't packing any extra weight either. One thing to note is that against many other boys (and later, men) he is not going to be the kind of guy women's heart beat faster for because of his abs being highly defined.
Dress sense:
Whatever takes his fancy when he goes shopping. Arthur isn't particularly picky, and, normally, you can't go wrong with the shade black.
Birthmarks:
None.
Tattoos:
None.
Scars:
Only the usual small ones from childhood mishaps.
Piercings:
None.

Likes:
  - Wizard's Chess - it's a great game, so under rated, people really should try it more!
  - Sweets - of both the Muggle and magical world. Arthur has a very big sweet tooth, which usually means he's hoarding sweets in his school bag at all times.
  - Praise for things done well, achieving is the forefront of Arthur's mind, so to hear other people seeing him do well makes him feel great.
  - Beating other people at things, though, for the most part, Arthur manages to keep this joy inside of him, and isn't too much of an ass about this. However, everyone slips up from time to time.
  - Muggle video games - they're so fun, not everything needs to be magic!
  - Time on his own away from people so that he can just calm himself and focus on his goals.
  - Sarcastic types of humour.
  - Darker colours.
Dislikes:
  - Quidditch - it is so mainstream that Arthur tends to avoid it. Also, he doesn't really understand the rules, so uses the mainstream notion as his excuse to cover up any foolishness others may see.
  - Social gatherings - Arthur is relatively shy, so it's difficult for him to be found in large groups. He's not the loner kind, he's just uncertain of how to deal with these kind of situations.
  - Doing things on the whim, surely you can plan a little in advance?
  - Being mollycoddled.
Strengths:
  - Strategist - Arthur is very good at strategy - from playing Chess to playing War Games on his computer at home, Arthur's strategy methods are incomparable to others his age. This is something Arthur hopes to apply to is work when he grows older, though he's not yet decided what he wishes to do.
  - Time management.
  - Responsible.
  - Determination to succeed in any and all challenges that are presented his way.
  - Caring (with friends).
Weaknesses:
  - Arthur cannot (easily) allow someone to finish something off for him because he's not overly trustful that they can do it to the standard he wants it. Therefore, he can seem a little bit snobbish with his want of high standards.
  - Self-conscious.
  - Working in a team - probably the reason Arthur likes Chess more than Quidditch is because he doesn't have to depend on others, or allow others to question his methodology.
  - As Arthur is quite set in his ways of how he does things, he dislikes deviation in them. Therefore, some people might deem him quite boring, but it is simply because he doesn't wish to feel unsure in what he's doing.
  - Arthur has a quirk for running his fingers through his fringe to sweep it across his forehead 'out of his eyes' (even though it doesn't quite reach) when he is agitated.
Positive traits:
  - Ambitious - Arthur is quite sure he wants to go for the big things in life when he's finished school. But, for now, he'll be working towards gaining awards in the school, such as the role of Prefect.
  - Loyal - once Arthur has managed to break through his social anxiety with others, he is a fiercely loyal friend that will not allow anyone to put his friends down.
  - As a strategist, you have to be patient, so Arthur has an almost limitless amount of patience in that respect.
Negative traits:
  - Overly cautious - Arthur will not rush in to anything without having all the information he needs to make the right choice.
  - As Arthur grows older it will become more apparent in his being that he is a Status-Seeker. He doesn't really mean to put others down, but he will do (almost) anything to get to where he wants to be.
  - Discussing feelings is difficult for Arthur, this is not to say he doesn't have them, because he definitely does, but opening up is not an easy thing for him to do. With time, however, and a lot of patience, it will definitely be possible.

[Please write at least 2 detailed paragraphs of your character's general history. This can entail anything from their upbringing, school years and their present. The paragraphs don't have to be long, but they do need to include details, so that people can get to know your character more.]

Mother:
Name:
Tamara Peadarsan (nee. Thickett)    
Age:
36    
Living or Deceased:
Living    
Blood type or Species:
Halfblood    
Occupation:
Office Assistant in the Ministry of Magic
Father:
Name:
George Peadarsan    
Age:
39    
Living or Deceased:
Living    
Blood type or Species:
Halblood    
Occupation:
Ministry worker (Arthur doesn't know what his father does, exactly, but he knows it's nothing exciting).

The Peadarsan family are your run of the mill magical family. They're from a really old magical background that has weakened over the years to the point of being ale to trace it back to anyone of note a very cumbersome affair. George Peadarsan was a young man who didn't make much of a name for himself at school, he was an average student, and not particularly good at sports either. He was popular enough, and, after finishing school and finding himself a job within the Ministry of Magic, he settled down to a comfortable life.
The meeting of Arthur's parents was not any sappy love story, it was something of a one night stand (highly alcohol infused) which lead to Tamara falling pregnant with Arthur. George, however, found himself falling for Tamara after finding this news out, and though he didn't love the woman in a deep manner by the time Arthur had come in to the world, a fondness had grown between them. George and Tamara married when Arthur was three years old, and are, now, quite in love with one another.