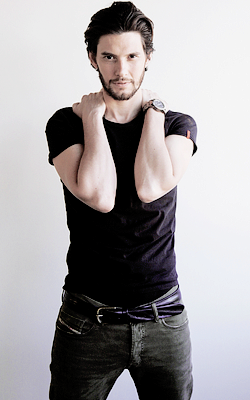 Full Name:
Benjamin David Winters
Age:
24
Date of birth:
27 March 1996
Birthplace:Current home: Blood Status:
Halfblood
Sexual Alignment:Wand type:
(length, core, type of wood)

Hair colour and style:
Short-ish dark brown hair that is usually swept back from the face. Definitely long enough for fingers to be lost in (when Benjamin gets intimate). Often paired with a light stubble across his jaw, chin and upper lip. It works well for the ladies.
Eye colour:
Dark brown.
Height:
6 foot.
Body type:
Relatively athletic with nice muscular tones.
Dress sense:
Smart most of the time - if you don't dress to impress, how are you ever going to find a lady to take home?
Birthmarks:
None.
Tattoos:
None.
Scars:
None.
Piercings:
None.

[In this section, please don't just write one or two words. Explain their likes, dislikes, strengths, weaknesses, positive & negative traits in detail wherever possible; this is for people to get a decent idea of who your character is and what they are like, so please don't just randomly list things. Also, three is the minimum, please don't be afraid to list more, there will never be limitations to detail on this site!]
Likes:
(3 minimum)
  -
  -
  -
Dislikes:
(3 minimum)
  -
  -
  -
Strengths:
(3 minimum)
  -
  -
  -
Weaknesses:
(3 minimum)
  -
  -
  -
Positive traits:
(3 minimum)
  -
  -
  -
Negative traits:
(3 minimum)
  -
  -
  -

[Please write at least 2 detailed paragraphs of your character's general history. This can entail anything from their upbringing, school years and their present. The paragraphs don't have to be long, but they do need to include details, so that people can get to know your character more.]

Mother:
Name:
Age:
Living or Deceased:
Blood type or Species:
Occupation:Father:
Name:
Age:
Living or Deceased:
Blood type or Species:
Occupation:Siblings:
Name:
Age:
Living or Deceased:
Blood type or Species:
Occupation:Spouse/Boyfriend/Girlfriend/Partner/Fiance:
Name:
Age:
Living or Deceased:
Blood type or Species:
Occupation:Children:
Name:
Age:
Living or Deceased:
Blood type or Species:
Occupation:Pets:
Name:
Age:
Living or Deceased:
Blood type or Species:

[Please write at least one paragraph on your character's family history. This can include details about how their parents met, their views on the world, their money status, and any other things you find necessary. In situations where characters are orphans, you can write how this came about, be it death of parents or whatever other reasons. Keep in mind that this is to shape your character more, since family has a huge impact on who one is.]