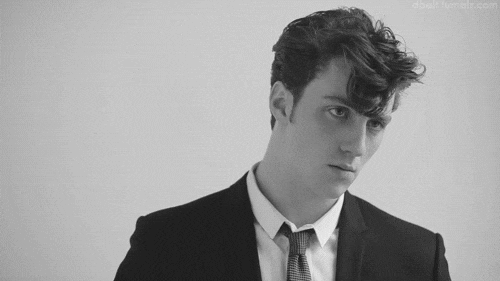 Full Name:
James Edmund Byrne
Age:
13
Date of birth:
1st September, 2007
Birthplace:
Cotswolds, England
Current home:
Hogwarts
Blood Status:
Pureblood
Sexual Alignment:
Heterosexual
Wand type:
(length, core, type of wood) Aspen, phoenix feather, 14 inches, hard

Hair colour and style:
Dark brown, styled messily, unless there's a formal event
Eye colour:
Blue
Height:
Will grow to be 5 foot 10
Body type:
Toned, muscular (as he gets older)
Dress sense:
He dresses sharp, always makes sure that he looks impeccable
Birthmarks:
N/A
Tattoos:
N/A
Scars:
He has a scar running up his leg from a quidditch accident from when he was younger. His leg was broken and it pierced the skin quite badly, his inner right calf.
Piercings:
N/A

[In this section, please don't just write one or two words. Explain their likes, dislikes, strengths, weaknesses, positive & negative traits in detail wherever possible; this is for people to get a decent idea of who your character is and what they are like, so please don't just randomly list things. Also, three is the minimum, please don't be afraid to list more, there will never be limitations to detail on this site!]
Likes:
(3 minimum)
  - Quidditch- sports, working out. It made him look good and feel good.
  - Competition- it's one of his biggest motivators - he just loved knowing that he was the best of what he tried
  - Girls
 - Being the centre of attention- he always has been, and he wants it to remain that way
 - Dares- proving himself to people is always enjoyable
-Socialising- because you don't get anywhere in life without needing to socialise a bit
Dislikes:
(3 minimum)
  - Quietness- he can't deal with silence or quietness, he's more at home around others
  - Tasks involving long periods of concentration- like reading. He gets fidgety, his mind wanders, and it simply doesn't end well
  - Wet blankets- people who feel the need to spoil the fun can (in his opinion) get lost
 - Homework- while spending all day at school, it's just cruel to set tasks after class
 - His siblings- well, he loves them, of course. But Anthony's too somber and Florence is just a little too jealous of him for his liking.
Strengths:
(3 minimum)
  - Athletic- he can sprint, jump, play quidditch- he has a natural talent for sports
  - Charm- he has a way with words and good looks, of course he's going to be charming
  - Brave- and daring, all those good qualities. He stands up for himself and his friends without question
 - Great social intelligence- he just gets how people work- he has a great ability of understanding people's emotions
Weaknesses:
(3 minimum)
  - Spoilt- growing up as the eldest of three, he's always been given special treatment in that he was always given priority. He expects the same in school, naturally
  - Stubborn- it's his way or the highway- he has difficulty compromising
  - Impulsive- he sometimes forgets that action have consequences (though he rarely suffers said consequences)
 - Ego- confidence is fine, but James definitely has quite an ego, and it can become trying on people.
Positive traits:
(3 minimum)
  - Loyal to his friends and family to a fault
  - Intelligent- for someone who dislikes study, he is oddly intelligent. One of those kids who doesn't seem to have to try hard to be good at things
  - Confident- he doesn't let people put crap over him
 - High self-esteem- he thinks highly of himself and has reason to, of course
Negative traits:
(3 minimum)
  - Manipulative- he always gets what he wants, and sometimes his charm slips into manipulation
  - Arrogant- he seems to think too highly of his importance, only amplified by his parent's reinforcement.
  - Doesn't work well in groups- he's too used to being in charge, and has difficulty letting others lead. This usually ends up with an argument or fight
 -Reckless- thinking ahead is for wimps, seems to be his philosophy

[Please write at least 2 detailed paragraphs of your character's general history. This can entail anything from their upbringing, school years and their present. The paragraphs don't have to be long, but they do need to include details, so that people can get to know your character more.]
James was bought up in a typical pureblood household.The eldest of three children, he usually got whatever he wanted, and his parents absolutely adored him. He was the heir to their fortune, and so his father had groomed him from a young age with the hopes that James would become a leader- responsible, ethical and hard-working. Though, due to all the special treatment, he became rather spoilt, cocky and arrogant.
His parents, however, didn't seem to see how he'd become, and continue to treat him like some sort of golden child, much to his sibling's dismay. It was enhanced by the fact that he seemed to be talented at everything he did- from quidditch to magic.

Mother:
  Name: Audrey Byrne (nee Richardson)
  Age: 40
  Living or Deceased: Living
  Blood type or Species: Pureblood
  Occupation: Wife
Father:
  Name: Charles Byrne
  Age: 44
  Living or Deceased: Living
  Blood type or Species: Pureblood
  Occupation: Ministry Official
Siblings:
Spoiler:
Name:
Florence (Florrie) Byrne   
Age:
11   
Living or Deceased:
Living   
Blood type or Species:
Pureblood   
Occupation:
Student
Siblings:
Spoiler:
Name:
Anthony Byrne   
Age:
12   
Living or Deceased:
Living   
Blood type or Species:
Pureblood   
Occupation:
Student

Audrey and Charles met at a social gathering when they were merely teenagers, and arranged to marry soon after. Luckily enough, they do rather like each other and enjoy each other's company, but love… Well, no. They married for duty, to connect two very old pureblood lines- the Richardsons and the Byrnes. It didn't take the two long before they had their eldest son James- soon after with Anthony and Florence.
Charles quickly procured a highly regarded job in the ministry soon after graduating Hogwarts, largely due to his status and connections. Audrey chose to remain a housewife, rather happy with the easy life she had, helping to raise her three children, plan social events and teach her daughter what she needed to know as an elite pureblood.