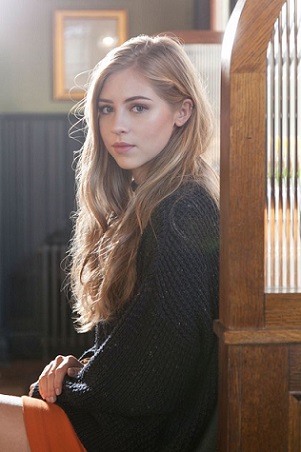 Full name:
Amber Kalea Carter
Age:
13
Date of birth:
8 July 2007
Birthplace:
Cochem, Germany
Current home:
Hogwarts
Blood status:
Halfblood
Sexual Alignment:
Heterosexual
Wand type:
Pine, unicorn hair, 9 inches

Hair style and colour:
Long (mid back) and blonde. Usually, she leaves it long or ties a half-up ponytail. Occasionally, she ties it into a bun, giving the impression that she has short hair.
Eye colour:
Light blue
Height:
5' 10
Body type:
Skinny
Dress sense:
Very fashionable and sensible; she has a large selection of dresses and skirts.
Birthmarks:
A circle on the back of her neck
Tattoos:
None yet
Scars:
Just the usual small ones from childhood accidents and whatnot; none worth mentioning
Piercings:
Her ears

Likes:
(3 minimum)
- A good book
- Shopping
- A nice cup of coffee or hot chocolate
- Being by herself
- Flying
- Long walks during cool weather
- Snow
- Makeup
- Dresses and skirts
Dislikes:
(3 minimum)
- Initiating conversation with people she doesn't know
- Crowds
- Small talk
- Sitting around doing nothing
- Seeing people hurting
- Not being able to perform spells well because she can't speak
- Talking verbally or having to try
- Having to explain to people how she became Deaf
- Being different alone
- Swimming
- Small minded people
Quirks:
- She's very shy and so even when signing, she tends to look down at her shoes.
- Sometimes, she signs so quickly that she skips over words; it becomes the Deaf equivalent to mumbling.
- Since she knows not everyone can sign (and doesn't expect everyone to), Amber tends to carry around a notebook and at least one pen by which to communicate with others.
- When focusing on something, she tends to sign to herself (she thinks 'out loud'/talks to herself)
Strengths:
(3 minimum)
- Wandless magic and non-verbal spells, since it was how she had to cope with her pronunciation issue
- Potions; since it's something that doesn't require either interaction with people or verbal spells
- Listening to friends and people in need
- Being there for people; she has this knack for getting people to open up
- She writes amazing poems; she uses writing as a way to express herself
Weaknesses:
(3 minimum)
- Public speaking
- Spells that require verbal incantations
- A nice autumn or spring day; she loves talking long walks in the forest or by lakes.
- Deep water; she can't swim
Positive traits:
(3 minimum)
- She really cares about people and doesn't like to see them hurt
- Really gentle with everyone around her
- Patient, since she knows what it's like to not be understood
- She's the type of person who bounces back really quickly
Negative traits:
(3 minimum)
- Painfully shy, so much so that she could and would go for weeks without talking to anyone
- She's quite conscious about her Deafness. Having grown up in a small town where nobody really batted an eye when she would order food through either signing or writing it down, she is naturally a little iffy about how others would receive her.
- A lot of times, Amber lets people walk all over her, since she isn't the best at standing up for herself
- Absent-minded; a lot of times, she doesn't pay attention to anything going on around her, instead getting lost in her own thoughts.

Amber was spoilt from the moment she was born, getting everything she wanted and more, since her parents were rich. Born in a small town in Germany, she grew up happy and healthy, until the age of 5. Contracting a very nasty strain of dragon pox, Amber's fever reached such a high degree that it left her with permanent hearing damage; by the age of 6, she could barely hear any sounds, and she was pronounced officially Deaf by 7.
Having heard of great programs for Deaf children in the US, her mum took her there, where she learnt ASL and all the tricks and tips she would need to survive in the Deaf community. Holidays and weekends were spent back in Germany.
Upon receiving her Ilvermorny letter, Amber was thrilled at the idea of attending
normal
school, where she was chosen by Pukwudgie. Completely Deaf -- and not just hard of hearing -- she was given an interpreter to follow her around, but after her first year there she turned down additional help; she wanted to
make it on her own
and not rely on someone else for the rest of her life.
When she was 12, her father received a great opportunity to bring the company over to the UK, and after some discussion, the family moved to Ireland, where she found it difficult to adjust; speaking only ASL, all those around her that did speak sign language tended to favour BSL, and it was after many tears and many a hard night did Amber finally learn BSL, now speaking both somewhat fluently, although at times she slips back into ASL.
She didn't mind changing schools, since she had been somewhat ostracised in Ilvermorny for being Deaf. To her surprise and pleasure, she met another Deaf person at Hogwarts, a fellow Hufflepuff named Elleon. The pair soon became so close, it was almost as if they were conjoined twins; where one went, the other usually was. There was no doubt that, somehow, fate had brought the two together, and as Amber matured and entered her third year, she found herself developing a crush on her best friend. However, not wanting to ruin anything, she doesn't say anything, instead maintaining the friendship, thankful that, at the very least, Elleon is her best friend.

Mother:Name:
Fiona Carter
Age:
48
Living or Deceased:
Living
Blood type:
Halfblood
Father:Name:
Alwin Carter
Age:
49
Living or Deceased:
Living
Blood type:
Muggleborn
Siblings:
 None
Spouse/Boyfriend/Girlfriend/Partner/Fiance:
 N/A
Children:
N/A
Pets:
Name:
'Nelly', with the Sign name being the sign for Owl, except with an N    
Age:
5    
Living or Deceased:
Living    
Blood type or Species:
Owl

Alwin is a muggle from Germany whose parents owned a very successful company. When they passed, he took over, becoming rather rich in the process. Fiona, on the other hand, is a halfblood from the US, although her ancestry is of UK descent. They met while Alwin was on holiday in the US. He met Fiona while they were both hiking the same trail, a dangerous one that not many should attempt; both being experienced hikers, they felt safe until a freak storm caused Alwin to fall down a ravine.
Left with the choice to either reveal her magic to him or wait for muggle paramedics, Fiona chose the former. When asked how they met by those in the wizarding community, he always says that Fiona appeared out of nowhere, muttered some words while pointing a stick at him, and lifted him out of the ravine.
He thought he was going crazy, until she explained what happened. Instead of obliviating him, they got together and stayed together for good.
Amber, therefore, has very mixed culture and heritage.