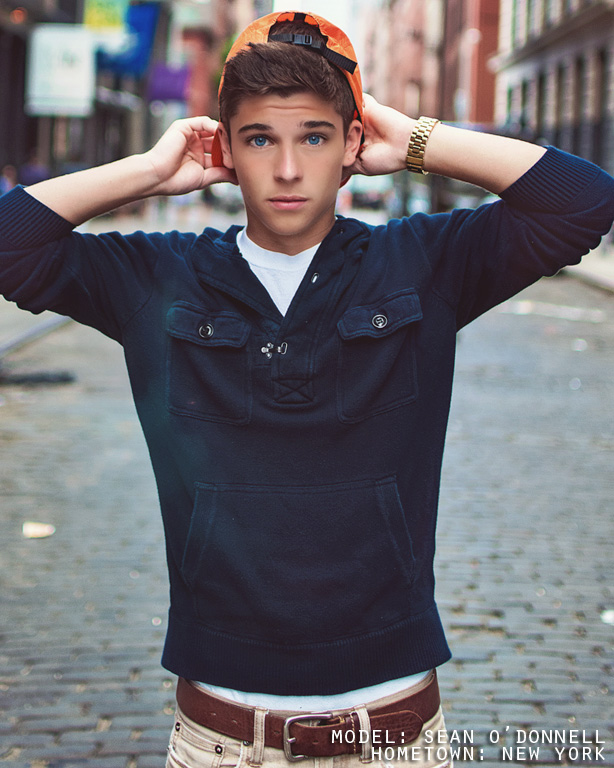 Full Name:
Oliver Francis Goulding
Age:
13
Date of birth:
15 April 2007
Birthplace:
Norwich, England
Current home:
Hogwarts or Norwich.
Blood Status:
Muggleborn
Sexual Alignment:
Heterosexual
Wand type:
9", Oak, Unicorn

Hair colour and style:
Oliver's hair is relatively short, and brown. Nothing out of the ordinary really, except the ends seem to (naturally) go a lighter shade which makes it look like he does something to it. Usually, he uses a light amount of gel to style it, but it wouldn't look amiss if he hadn't.
Eye colour:
Oliver's eyes have always been a beautiful ocean blue. His mother had fallen in love with them when he was a baby, and says it makes her baby boy that much more handsome (as mum's do).
Height:
Currently just short of five foot five - will be about five foot nine or ten when fully grown.
Body type:
Currently, Oliver is very indifferent about his body. It is just how it is. There is very light definition in his muscles, as with any boy who's as active as he is at his age. However, the boy will grow to care about his body, and will work out to have a decent definition in his muscles (to impress the ladies).
Dress sense:
Oliver is not too fussed about clothes. He likes labels, though, so his taste is a little expensive at times. Mostly, when not in uniform, he's rocking jeans, t-shirt and hoody - or something similar - unless the occasion needs something more tidy.
Birthmarks:
None.
Tattoos:
None.
Scars:
Other than the usual marks left from too many scraped knees, none.
Piercings:
None.

Likes:
  - Quidditch - since finding the Magical world, and seeing his first game of Quidditch at school, Oliver has been taken by the game, and intends to try out for the team in his third year.
  - Oliver won't admit this, because it is a little bit embarrassing, but he has a very nice voice. He sings in the shower quite often (because obviously people
can't
hear him).
  - Sweet things.
  - Food...
  - Potions - it's something that came quite easily to Oliver, and (after a bit of research) he's found that this is needed to become a healer.
  - Something of a romantic, but he will have to find the right girl for this to come out.
  - The Hufflepuff Common Room - it is so cool, and right next to the kitchen!
  - Oliver has always gotten on better with girls, boys seem to want to have a 'cock' fight all the time, and Oliver doesn't understand this. Not that he's soft, he just isn't one for commotion.
  - Helping people - even if it's just listening to people whilst they talk about crap, Oliver is open to spending the time with those who need it.
  - Being around a good amount of people. He's social, and does need to speak to more than just one person to be happy.
- His little sister.
Dislikes:
  - Seeing people hurting, Oliver has to step in, and try to make the person smile.
  - Reading in place of experience. Oliver is more street smart than book smart. Why read about something when you could do it? This is not to say Oliver doesn't read, he's just more interested in doing.
  - Being cooped up inside for too long - it makes him feel physically sick.
  - As Oliver was born to two Muggles, he's very behind most people in the Wizarding World, and often dislikes the fact he's not so good with things that others believe to be obvious.
Strengths:
  - Patient - Oliver has an understanding that some people can't open up, or tell him the things he wants to know, but he knows if you give them time you will probably get the results you want.
  - Understanding/open minded - how could he not be when he came from a Muggle background and was thrown in to a world he thought only existed in fairy tales?
  - Oliver knows how to have a good joke - in the right moment - and has often been said to be a joy to be around because he brings a smile to people's faces.
  - Strong-willed.
  - Saying the right things. Though Oliver is not a sweet talker for sweet talking sake, he does know when to tell people the things they need to hear. Even if it means repeating himself a million times.
Weaknesses:
  - Keeping on track with all of his homework. There is a lot to do at Hogwarts, and the homework can get a little too much at times. Therefore, Oliver will often be found to be falling behind with homework if he's not prompted.
  - Likes to go on adventures, which therefore means risks. And, Oliver is not always the best at risk management.
  - Exam Pressure gets to Oliver quite a lot, which means he's dreading his O.W.L.S. even though they're two years away.
  - Oliver will always take the fall for his friends should they come in to trouble, which means he often gets the telling off for others. He needs to learn that this is not always the right thing to do.
- His little sister
Positive traits:
  - Oliver is not afraid to speak his mind - however, this is not in a rude manner, this is meant in a helpful manner. If he can see someone not doing things correctly, or being blind to a better option, he will tell them in the nicest way possible.
  - Self-Assured. Oliver knows his capabilities. He knows his downfalls. He is not afraid of someone being better than him, and actually actively encourages people who are.
  - Kind-hearted - being sorted in to Hufflepuff, it was inevitable that Oliver's kind heart had shown that path. However, just because he's been placed in the 'good' house, does not mean he's blind to reality. You can't save everyone, but you can help those who need it.
  - Fighter - Oliver will fight for those he loves, keeping them happy, keeping them safe, and never giving in.
  - Dealing with his emotions. Oliver is not someone who is a steely faced, unemotional male. He has emotions, and he expresses them. However, he knows
when
to express them, and when he needs to hold them back from the sight of others.
Negative traits:
  - Organisational skills are a little lacking.
  - Quite untidy - his room (at home) looks like a bomb has hit it.
  - If you hurt someone that Oliver loves, he will find it very, very difficult to forgive you. On the off chance that he can forgive you, it is unlikely that he will forget.

Oliver was born to two Muggles, Eliza and Roger Goulding, and life was very much the run of the mill for them for the first five years of Oliver's life. They were not rich, but they were not poor either. They were lower middle class, if you wanted to put them on the scope. Eliza worked at the local supermarket, and Roger worked as a plumber.
Nothing, it could be said, was out of the ordinary for the family.
Except on Oliver's fifth birthday, when they were playing in the soft play ball area with his friends, little James Brown decided he was going to start picking on Freddie Marks. Freddie had started to cry - the adults were doing their best to get in the much too small ball pit, and Oliver had stumbled over to the two, and... well, somehow, the balls from the ball pit seemed to be able to lift themselves, and throw themselves and James constantly until Freddie was laughing.
Eliza had seen as she entered the ball pit, and sat there perplexed for a few moments before she gathered the boys in for cake.
A Ministry Official had arrived that evening - after the alert of underage magic had been received - to explain to Eliza and Roger that Oliver was, in fact, Magical, and that his abilities should not be something that scared them, but rather, something they embraced. Eliza was hysterical by the end, but little Oliver had sat looking at the lady who'd explained with interest only a child could see.
There were, of course, a number of other incidents throughout the years - mainly when one of Oliver's friends was being picked on. He managed to hide it well enough, though, writing it off as a fluke.
At the age of ten, Oliver was gifted with his little sister, Isobella. She was so tiny, and so cute, Oliver was besotted with the small bundle of joy. Looking after her where he could, and generally helping out as much as possible, Oliver dotes on the youngest Goulding, and would do anything for her.
Oliver's eleventh birthday was announced with the arrival of his Hogwarts letter, and the boy had been over the moon - but also apprehensive of leaving Isobella. Four months later, Oliver had arrived (in complete awe) at Hogwarts, and been sorted in to Hufflepuff, where he's thrived in making friends, and is not doing
too
badly in classes.

Mother:
Name:
Eliza Goulding (nee. Zenox)    
Age:
37    
Living or Deceased:
Living    
Blood type or Species:
Muggle    
Occupation:
Supermarket Attendant
Father:
Name:
Roger Goulding    
Age:
38    
Living or Deceased:
Living    
Blood type or Species:
Muggle    
Occupation:
Plumber
Sister:
Name:
Isobella
Goulding    
Age:
3    
Living or Deceased:
Living    
Blood type or Species:
Muggle (not yet sure if she has magical abilities)

Eliza and Roger met at school, Roger was a year above Eliza in school, and therefore often desired by many of the other girls in school. And, well, he got around a little bit, that much was for sure. However, when he met Eliza, something had changed, and he'd decided to try something serious instead of playing around all of the time.
The relationship had started off well, and when they had both left school, they'd moved in together almost straight away. It was a relationship that blossomed from strength to strength, and after five years of being together, Roger proposed. They married just over a year later, the picture of the perfect bride and groom. Things carried on growing, too, and two years of trying for a child, Oliver was born.
After ten years of raising Oliver, a happy accident occurred, and Isobella Goulding joined the family.