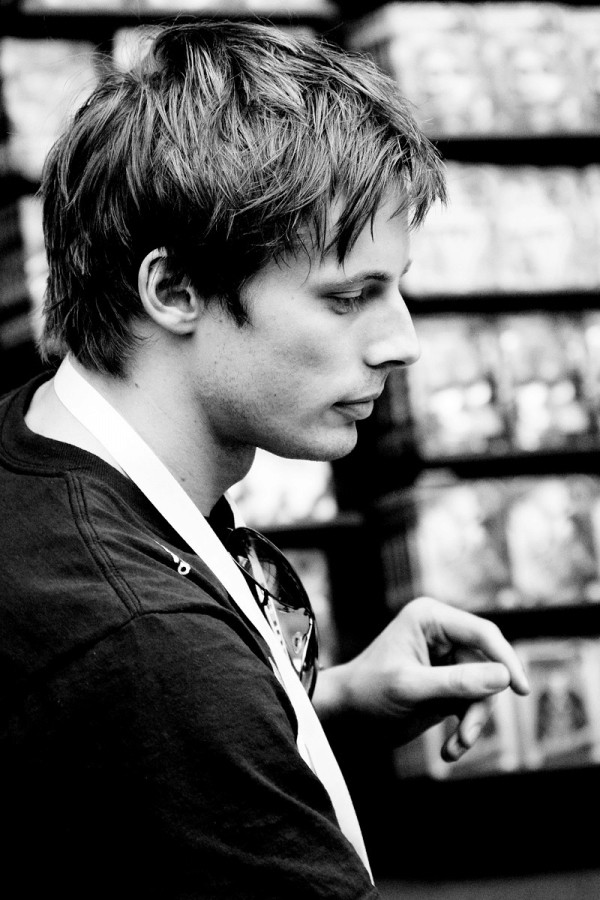 Full Name:
Mathew Ethan Howard
Age:
14
Date of birth:
25 June 2006
Birthplace:
Castle Howard, Yorkshire, England
Current home:
Hogwarts during term time, Castle Howard otherwise.
Blood Status:
Muggleborn
Sexual Alignment:
Heterosexual
Wand type:
9" Blackthorn, Dragon Heartstring

Hair colour and style:
A dirty blonde mop of hair befalls the Howard heir. It nearly touches his eyes, just falling short in a manner his mother loathes beyond explanation. Always seeming to fall tidily in this manner, Mathew does little to it each morning to make it sit how it does.
Eye colour:
Deep blue, and piercing. Mathew's eyes are icy in their gaze.
Height:
Currently about five foot seven, to grow to just over six foot when full grown.
Body type:
Currently developing muscle mass, but when an adult, muscles will be quite defined in his body.
Dress sense:
Always smart. There is no such thing as a dress down day. The only time you'll find Mathew out of a smart shirt and trousers is either when he's playing Quidditch, exercising, or sleeping.
Birthmarks:
None.
Tattoos:
None.
Scars:
Mathew has a lot of burn marks on his hands. Little ones, not hugely grotesque ones, from where he plays with fire and leaves his hands to close when in thought. He's never really hurt himself, but if you look, you will see the light marks across his hands.
Piercings:
None.

Likes:
- Using people for his advantage
- Potion making and the methodical elegance of the subject.
- Quidditch
- Watching other people suffer/in pain.
- Fire - it's so fascinating.
- Getting his own way.
- Being in control of situations.
- The idea of Pureblood society - despite being a Muggleborn, he adores the traditional mannerisms.
- Dueling.
- Reading.
- Collecting.
Dislikes:
- Idiocy.
- People who think they can out do him (see above).
- Affection.
- Being called Matt, Matty, Mat or any variation of his name. He is Mathew.
- His time being wasted - especially by idiots.
- Disorganisation/mess.
- Being touched by people, it makes him freeze up.
- People telling him what he can and cannot do.
Strengths:
- Mathew is cool headed under pressure - often to the extent that it is chillingly calm.
- Confident in himself and his abilities to the point of arrogance.
- Power of manipulating his peers (and in time adults) is unrivaled, and often people are not even aware that he is doing so.
Weaknesses:
- Mathew is hopeless with emotions, therefore reading other people's emotions is insanely hard for him to do.
- There is no notion of remorse for any of his actions.
- Mathew does not know how to let people in.
- Functioning in normal society. Mathew doesn't fit in. Many people think he's odd, but they really don't know the half of it.
Positive traits:
- Cunning.
- Very high pain barrier, due to a strong mind.
- Ambitious.
- Hard working.
- Does not give in easily.
Negative traits:
(3 minimum)
- Selfish - unless he has very good reason to not be, Mathew will only think of himself.
- Demanding - being brought up in a very wealthy family, he's always had what he wanted, and does not wish to change this at all.
- Arrogant.
- Obsessive. Mathew can't just 'like' something. He gets too involved with things, and this has led to his parents becoming somewhat troubled by his actions.
- Deceitful.

Mathew's childhood was based upon two different scenarios. Neither of them merged with one another. They were separate. The first was that the home he lived in would be full of an awful racket known to the wider world as arguing. Shouting. Screaming. Cursing. His parents married only through the idea of arranged marriage, and upon the arrival of Mathew, the game of happy families had ceased to exist.
The second scenario was unearthly silence.
Mathew had never decided which he preferred more. The silence of his parents being away. Or them shouting at one another when they were here. It was safe to say, that with an heir in the house, and their jobs done for the family, Mathew's mother and father had fallen out of 'love', hard.
It was this, though, that Mathew had learned to exploit from a young age. Getting everything he wanted by playing on his parents' conscience, Mathew was taught from a young age that throwing tantrums would get you exactly what you wanted.
His childhood he spent home schooled. Isolated from other children apart from at social events, the boy did not learn to play nicely with other children. He didn't learn to share. He didn't learn any of the normal social skills that school would have taught you, and only grew to be more and more isolated. This might have been the cause of Mathew's psychological issues, but it is difficult to say.
At the age of eleven, a letter came through from a place called Hogwarts. A school that nobody in the house had heard of, but the man - who was very funny looking, even to Mathew - had explained it was a school of magic. Mathew had sat quietly during the explanation, the small fireballs that often appeared when he lost control of his emotions making sense now that he thought about it.
The man had insisted this would be a good thing for Mathew, he would learn how to harness his magic. Develop it. Mathew had liked this idea very much - the idea of power being a very strong pull to the boy. He'd arrived at Hogwarts shortly after, but unlike those around him, he was not awed by the castle. He was not awed by the lake and the boats. He was not awed with the ceiling that changed to look at the night sky.
Mathew was sorted in to Hufflepuff - something he didn't have a clue what this meant. He soon learned, though, that he didn't like Hufflepuffs. Mathew fell in to a cycle of getting books from the library. Reading them through. Learning new spells, and repeating. Being somewhat of a loner, Mathew was bullied in his second year. It had been the bully's mistake.
Mathew had caused a fireball to erupt from the end of his wand, which caught the boy's robes on fire, and left him with very bad burns. The Headmaster had not been happy, but... he was twelve. He'd played it off as a mistake. That his emotions had caused it...
Nobody knew the truth. That he'd meant the boy to burn. Alive.
He'd failed only because a fifth year had stepped in with a water spell, and another boy had pulled Mathew away before he could do anything else.

Mother:
Name:
Marcia FitzAlan
Age:
36
Living or Deceased:
Living
Blood type or Species:
Muggle
Occupation:
Duchess of Norfolk
Father:
Name:
Henry Howard
Age:
40
Living or Deceased:
Living
Blood type or Species:
Muggle
Occupation:
Duke of Norfolk

The Howard family is an English aristocratic family founded by John Howard who was created Duke of Norfolk (3rd creation) by Plantagenet monarch Richard III of England in 1483. However, John was also the eldest (although maternal) grandson of the 1st Duke of 1st creation. The Howards have been part of the peerage since the 15th century and remain the Premier Dukes of the Realm in the Peerage of England, acting as Earl Marshal of England. After the English Reformation many Howards remained steadfast in their Catholic faith as the most high-profile recusant family; two members, Philip Howard, 20th Earl of Arundel, and William Howard, 1st Viscount Stafford, are regarded as martyrs: a saint and a blessed respectively.
Henry and Marcia were forced together in an arranged marriage to bring two powerful houses together. It was never really love, only convenience. They spend as little time together as they can, in truth, and lead very separate lives unless the courts insist upon it.