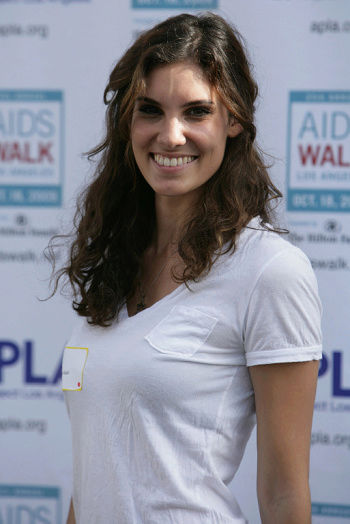 Full Name:
Andrea (Andi) Catalina Brandell
Alias:
Savannah Lopez
Age:
30
Date of birth:
29 July 1991
Birthplace:
Los Angeles, California, USA
Current home:
Hogwarts Staff Quarters
Blood Status:
Muggleborn
Sexual Alignment:
Heterosexual
Wand type:
English Oak, Phoenix Feather Core, 12 inches

Hair colour and style:
Dark brown. Usually styled in whatever suits her current undercover role. If not undercover but still in the field, usually in a ponytail or braid. If not working at all, she let's it down depending on her mood. Naturally wavy.
Eye colour:
Left eye hazel, right eye brownish-black with Nevus of Ota
Height:
5" 10"
Body type:
Fit, athletic
Dress sense:
Tomboyish, though she can dress to kill when necessary. Favours boot-cut/straight cut jeans. As long as it's comfortable. In undercover situations, she's trained herself to be able to fight in any kind of clothing, be it a skin-tight dress, mini skirt, bikini, or clown suit.
Scars:
Many from all her duels, fights, skirmishes and hazards of her job description. She keeps them though simple magic would make them easily disappear.
Piercings:
Ear piercing for ear rings.

[In this section, please don't just write one or two words. Explain their likes, dislikes, strengths, weaknesses, positive & negative traits in detail wherever possible; this is for people to get a decent idea of who your character is and what they are like, so please don't just randomly list things. Also, three is the minimum, please don't be afraid to list more, there will never be limitations to detail on this site!]
Likes:
(3 minimum)
  - Junk food
  - Muggle fighting
  - Cornflower blue
  -Martial arts
  -Ice cream and beer
Dislikes:
(3 minimum)
  -Children; not really dislike them but she doesn't know what to do with them or how to act around them
  -Showing the softer side of her; she likes and wants to be seen as a strong independent woman. As she's the only female in her team, she's used to being as tough as them. Not to mention the fact that they would tease her endlessly if they found out she actually read magazines.
  -Second dates; she just doesn't seem to be as charming as she can be on a first date, and easily gets bored and cranky
  -Injustice; it's one of the reasons she became an Auror
Strengths:
(3 minimum)
  -Able to think on her feet and improvise, especially when plans go awry
  -Combat, both Muggle and magical
  -Has an uncanny ability to sympathise with people's misfortunes, especially victims
  -Undercover work
Weaknesses:
(3 minimum)
  -The members in her unit, especially her partner. She would do anything for them
  -Doughnuts, beer, ice cream basically anything that allows her to eat out her frustration
  -Her father and his unsovled case
  -Talking about feelings
Positive traits:
(3 minimum)
  -Resilient; she has been able to bounce back from the horrors of undercover work. So far. There was that one time she took it harder than normal but with her team and especially Blake's help, she managed to get through it.
  -Brave; she never hesitates to dive into a risky situation
  -Keeps a cool head under pressure and able to think on her feet and improvise when things go
   Wrong  
Negative traits:
(3 minimum)
  -Very messy. Her desk is usually untidy and in a complete mess
  -She tends to hoard things. (She has 72 jelly bracelets)
  -Lets the 'strong' side of her barricade her emotions from showing. She often tries to suppress her softer side which is rather unhealthy
  -Impulsive when someone who is dear to her is in danger
Quirks:
-Keeps a gun on her at all times and cleverly hides it depending on what clothes she's wearing
-Taps fingers, hums, whistles or clicks tongue when bored

Born to Joseph and Marie, Andi grew up with a relatively happy childhood. Her father was a cop and her mother, a math teacher in a local school. From an early age, Andi showed interest in her father's work and he would tell her as much as he was allowed to. She would watch all sorts of crime/action television shows and run around the house holding an imaginary gun and imitating what she saw. Her father taught her hand-to-hand combat techniques amongst other things.
At around eight years of age, Andi started showing signs of magical abilities such as levitating objects around her. Both parents were confused and not a little scared of what was happening, having no explanation for it. Marie took off, giving the excuse that her daughter wasn't human, and leaving Joseph to raise her. Andi never saw or spoke to her again and never made an effort to find her. Though shaken for a few months after her mother left, Andi got over it with her father's care, becoming a "Daddy's girl" through and through.
Since they could not afford to pay someone to fix things whenever stuff around the house broke down, Joseph would teach Andi how to do so. By the time she entered the local wizarding school, she knew how to fix whatever problems a car might have - as well as hot wire one - and set up an electrical circuit for the house, including repairing it if it happened to mal function. She also knew how to gamble - since Joseph couldn't hang out with his buddies a lot because he had to take care of her, he taught her how to gamble instead - drink, and a myriad of other things.
When she turned eleven years old, the explanation came in the form of a member of the staff of the local wizarding school. Joseph was ecstatic for her and Andi was equally as happy. She took her studies seriously, excelling in DADA, transfiguration and charms. However, she never lost interest in the muggle style of fighting and continued training and equipping herself with different skills as she grew older. She graduated with flying colours. That night, after Joseph had gone out with his friends and denied Andi permission to stay out late with her friends, she snuck out of the house and spent time with them, returning home way past midnight. Her father never returned.
Muggle police found his body in the dumpster in an alley. The body was severely beaten, cut, and burned, evidently tortured. The case was never solved. Andi, then seventeen years old, lived on the streets for a year, working odd jobs to save up for university which she entered when she was eighteen with a major as an Auror. She threw herself into her studies, determined to have a career as an Auror to solve her father's case. She graduated with stunning grades and was handpicked to join an elite team of four other Aurors, making a team of five.
When one of them was transferred to another team, Blake Mason filled in the vacancy, assigned as her partner. They got along splendidly, often exchanging amusing quips and engaging in challenges. She couldn't pinpoint exactly when she started thinking of his as more than her partner, but the moment she realised where her thoughts were heading, she clamped down on them. Having a romantic interest in one's partner was a huge no. It would get in the way of the job and ruin everything. So she kept silent.
Her team describes her as a natural born operator, being highly skilled with her work and able to take on the personality of an alias convincingly, go in, get the job done, and vanish. Her knowledge of muggle techniques also maked her a valuable asset. She's been on missions around the world, travelling with her unit. While on a deep undercover mission in Iran, her cover was blown when she killed a man and found her real name and other particulars on his body. She insisted to be allowed to work on the case to discover the leak but the leader of her unit took her off active duty explaining that any contact made with her by any of the team members also put their identity at risk.
Learning of a job vacancy at a university and knowing its secret nature, the unit leader sent her there to teach until they could determine the cause of how her identity was compromised. She adopted an alias and stayed there as a professor. No one except the necessary people know her real identity and why she was there.
She worked the case privately - and against the rules - for a few months, hitting dead end after dead end until her partner arrived. Together - as always - they closed the case. Incidentally, it was during this period that Blake revealed his feelings for her and she realised just how much he valued her. She also revealed her feelings for him, as uncomfortable and nervous as that made her since it was completely out of her comfort zone.
Three years later, Blake received a new assignment as a professor in Hogwarts. Originally, Andi was to stay behind with the team but she managed to cajole the team leader into letting her go with him, receiving many many teasings about it. After a month, they managed to set up her backstory and, as a joke, they sent her in as a caretaker since Blake was the one who usually ended up as a janitor and Andi, the teacher/professor. Still, it gave her the opportunity to snoop around the castle without it being suspicious. She had to go in under an alias to prevent any leaks from happening again.

Mother:
Name:
Marie Brandell    
Age:
62    
Living or Deceased:
Living    
Blood type or Species:
Muggle    
Occupation:
Previously, a maths teacher. Now probably retired.
Father:
Name:
Joseph Brandell    
Age:
50 when he died    
Living or Deceased:
Deceased    
Blood type or Species:
Muggle    
Occupation:
Police officer
Boyfriend:
Name:
Blake Mason    
Age:
31    
Living or Deceased:
Living    
Blood type or Species:
Muggleborn    
Occupation:
Auror

Joseph and Marie met while he was on patrol. She was walking down a dimly lit and deserted street when a snatch thief armed with a knife threw her to the ground and grabbed her purse, climbing on to a motorcycle and speeding away. Joseph, who was making his usual rounds on his own motorcycle, heard her cries for help and came rushing to the scene. A chase ensued, with Joseph, of course, victorious. He helped her through the police report and escorted her home.
Three days later, so as to not seem too eager, he dropped by her house under the guise of seeing how she was doing and getting her signature on some unnecessary and irrelevant papers that he claimed was essential for her case. This led to a coffee outing and soon they began dating.
Not long after that, they got married and Marie gave birth to Andi. Things were a bit strained after that. With not enough funds to send their child to a daycare or to hire a  babysitter, Marie had to quit her job to look after Andi full time. To make up for the lack of one salary, Joseph began pulling longer and longer shifts which led to Marie resenting him for always not being around to take care of Andi.
As Andi grew and started to show magical powers, Marie took that excuse to pack her bags and leave. Joseph later found out that she had been having an affair for two years before she left and that she had gone to stay with the man, but he kept that information from his daughter. In order to take care of her, he had to spend less time as work which resulted in him earning less money. However, Andi was a contented girl and happy to be able to spend more time with her father.