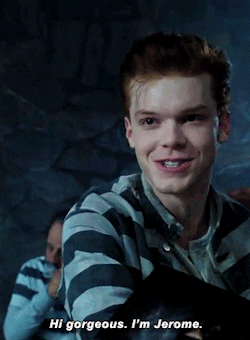 Full Name:
Jerome Mason Gallagher
Age:
11
Date of birth:
8th June 2000
Birthplace:
Blackpool, England
Current home:
Blackpool, England
Blood Status:
Muggleborn, potentially halfblood
Sexual Alignment:
Asexual
Wand type:
Aspen, 12 inches, phoenix core

Hair colour and style:
Dark red hair, that he tries to keep neat
Eye colour:
Deep blue eyes
Height:
Will grow to be 5 foot 10
Body type:
Not overly muscular, but toned
Dress sense:
Jeans, cardigans, just casual
Birthmarks:
N/A
Tattoos:
N/A
Scars:
N/A
Piercings:
N/A

Likes:
(3 minimum)
  - Fairy floss- easily one of the best treats
  - Acrobatics- something he'd been passionate about since he was little, and still likes to practice to this day
  -
Guns, knives, fire- wait, what? Well, that can't be public knowledge...
 - The circus, performing, the thought of being the centre of attention.
 - Hogwarts, well, anything that gets him away from his mother.
 - Laughter- There's nothing more contagious
Dislikes:
(3 minimum)
  - Controlling, nagging people (like his mother)
  - His father (more on that later)
  - Authority- who are they to tell him what he can and can't do? It's not like they've helped in anyway possible anyway.
 - People thinking they can take his spotlight
Strengths:
(3 minimum)
  - He has great charisma and stage presence, a born performer.
  - He talks and he talks well. He has great facials too. It really helps when he's in a sticky situation.
  - A hand as quick as his wit- he's smart, and he knows people. He also knows how to rob people. Really, he's quite gifted.
 - Great at manipulating people, until they figure out his game.
Weaknesses:
(3 minimum)
  - Empathy- he's never really felt sorry for anyone, never felt the need.
  - Tends to get into a fair bit of trouble- he takes far too many risks, and some aren't as well thought out as they could be.
  - Building meaningful relationships- he's good at acting, but doesn't form genuine connections with anyone.
 - Impulsive to the core.
Positive traits:
(3 minimum)
  - Charming - everyone who knows him, or of him, seems to think of him as a sweet, lovely boy
  - He's funny, and loves making people laugh, putting on a show
  - He's not afraid to be himself- highly individualistic
 - Extraordinarily creative
Negative traits:
(3 minimum)
  - Slightly homicidal, just slightly though.
  - He has a rather dark sense of humour
  - Can't tell when he's taken the joke too far
 - Doesn't seem to be able to feel empathetic towards people, rather callous.

Jerome grew up with a mother that saw him as a burden and didn't seem to want much to do with him at all. He quickly learned to care for himself, and grew to resent his (his words) useless mother, Sophia. Sophia seemed to constantly be in between jobs, trying to scrape together enough money for the ever growing pile of bills and 'final notices' that were stacked on the kitchen table.
It wasn't until his mother got a job with the circus, as a mere ticket vendor, that Jerome actually took an interest in something. Performing, entertaining, it just looked like so much fun. It was the first stable job his mother had had in quite a while, and even though it wasn't much, things seemed to begin looking up, even more so when he got his Hogwarts letter (he always did seem to have a proclivity at sleight of hand magic, the magician had told him so himself). Though for reasons Jerome couldn't quite understand, his mother didn't really start acting like a mother, as he thought she would. Instead, she got worse with the nagging, the complaining... Honestly, finally getting to Hogwarts was a relief. Though he still harboured some bitterness, especially towards his mother.

Mother:
Name:
Sophia Gallagher   
Age:
35   
Living or Deceased:
Living   
Blood type or Species:
Muggle   
Occupation:
Works for the circus selling tickets, currently. Her job tends to change quite a lot.
Father:
Name:
Unknown   
Age:
Unknown   
Living or Deceased:
Deceased (according to his mother)   
Blood type or Species:
Unknown   
Occupation:
Unknown
Pets:
Name:
Bob   
Age:
2   
Living or Deceased:
Living   
Blood type or Species:
Tarantula

Jerome lived with his mother, who refused to tell him anything about his father, except the fact that he looked like him. However, Sophia met his father when she was young, pretty and stupid. A typical story of her falling in love with an older man, and him not wanting to be tied down to the girl he got pregnant. She hasn't heard from him since the night she told him of her pregnancy and he bolted. Sophia herself didn't have the nicest parents either, being kicked out when they discovered that their precious daughter got pregnant. From then on, being a single parent, life had been a struggle.