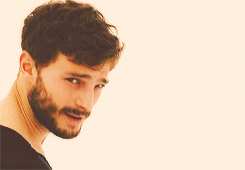 Caspar Loverin
32 || Herbologist || Halfblood || Shipped
Generous. Humorous. Quirky. Plant Enthusiast. Warm Heart.
Caspar has always been a relatively odd person, he has a fascination for plants that is beyond the normal level of something someone would like. His plants are, in essence, his babies and if anyone tries to harm them, it would be quite likely to end in them being hurt quite seriously.
That said, Caspar is a kind and gentle man who does not easily become worked up by others. He can often get flustered, though, if someone questions him too much on things he's not one hundred percent sure on.
Looking for:
~ Friends - adults, of course, perhaps people who can pull him away from his weirdness and help him become a little more socially acceptable.
~ If any student wants mentoring in Herbology, Caspar would be more than willing to help them out.
~ A student to wind him up. Most lessons. Because it's amusing.
~ Any other plot that a Herbologist may be needed!
Current Plots:
~ Shipped (with Scarlett Waters)
~ Dislikes Lux Bailey quite a lot because she always played up in his classes and made it very difficult for him to do his work well.