Janet Shinings
Slytherin Fifth Year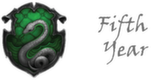 Posts

: 79


Birthday

: 2007-01-01


Join date

: 2017-08-08


Subject: Writers Block (open) Sun Dec 03, 2017 12:34 am

---

Janet bit her lip as she wrote, erased, wrote, erased, over and over. She huffed and dropped the pencil and paper to the table, leaning back in her seat and running a hand through her hair.

Why?! Why were the words not slowing as usual? She sighed and leaned over the small journal, picking the pencil back again and doodling in the margins of the paper. She usually had no problems with her book and yet this specific chapter just seemed... stuck. She couldn't make it past the first little part and even that just didn't work how she wanted.

She groans and rips the whole page out, glad nothing is on the back and crumples it up, discarding it on the table in front of her and grabbing a chip, looking around the crowded pub with a sigh. She tapped the eraser on the notebook and stared at the table in front of her, willing the inspiration to come. Writer's block is the worst.

________________________________________________

Janet Shinings || 16 || Fifth Year || Slytherin || Single || Profile

Tons of thanks to Ruby, creator of profile pic and signature.