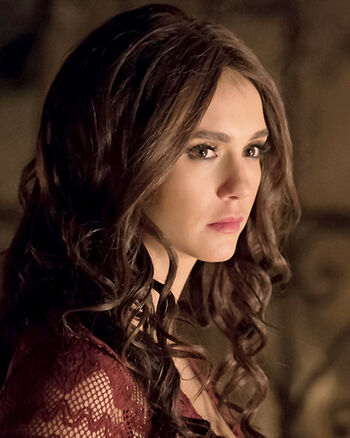 Full Name:
Scarlett Rae Jorde
Age:
30
Date of birth:
July 22, 1994
Birthplace:
America
Current home:
Mexico
Blood Status:
Pureblood
Sexual Alignment:
Straight
Wand type:
12, cherry oak, dragon heartstring

Hair colour and style:
Dark brown, straight or curly, whenever she is in the mood for either
Eye colour:
Brown
Height:
5,6
Body type:
Slim but has some muscle to kick some ass
Dress sense:
whatever she feels like, mostly combat boots, black leather, black corsets sometimes
Birthmarks:
none
Tattoos:
small tattoos on her hip of her kids name
Scars:
none
Piercings:
ears and nose
Likes:
(3 minimum)
  - if you would have asked her this when she was in Salem she would have said herself, but now she not only likes herself but her kids was well.
  - Snakes because they're venom and so is she
  - fire because just like her she is dangerous and loves to watch people burn for what they've done
  - Her one friend Azalea, no matter how cruel she was in Salem and now, Aza has always been there for her and she could never repay her for that.
  - her power to change appearances
Dislikes:
(3 minimum)
   - Rats, the animal and the people. She hates people who rat on others because why tell a secret when you're going to get burned? The animal rats, they're just nasty and need to die.
  - People, she has never been a fan of others because she hates playing nice. She has one night stands and purposely never sees them again.
  - Men and females because they're all no good, she is not a fan of those normal people. The people who are all happy and married and she just gets sick seeing their disgusting smiles.
Strengths:
(3 minimum)
  - her children, mess with them and you will never be seen again. And that's a huge promise from Scarlett
  - her looks, well she doesn't have kids for nothing people. Guys do find her attractive every now and then.
  - her power because.... well it does come in handy
  - she will never admit it but she did like school, but hated everyone in it.
Weaknesses:
(3 minimum)
  -her family. She would never know what to do if she ever lost her kids. They're all she has left and she will go through hell to make sure they're safe.
  - People, she just hates everyone, she is naturally bitter and proud of it.
  - Herself, she may be cold hearted but her weakness has always been family and that is something she will never like about herself.
Positive traits:
(3 minimum)
  - cold hearted
  - natural bitch
  - a god damn good mother
Negative traits:
(3 minimum)
  - a nerd when she wants to be
  - loving when it comes to her children, which is why she does it in private
  - clumsy, if someone sees her trip she will play that shit off like nothing happened
Scarlett will never admit this but she was never really loved as a child. Her mother was the apple of her father's eye and so was Scarlett, when she was in her mother's womb. When she was born her mother died and her father got stuck raising her all on his own. He always resented Scarlett because of the fact she technically killed her mother, but he hated her even more when she got her mother's ability to change her appearance. When she went to Salem he was excited she was gone even though she was coming back that summer. Scarlett was always cold hearted because her father led by example.
When she got to Salem she never made friends and never wanted to. When she got older she met Azalea Harrington and no matter how much she wanted to hate her, Azalea found a way to be her first real friend. Family actually. It got to the point where she was protective of Azalea even from the Salem school heartbreaker Jake Newbury. Scarlett never liked him but she did make him her son Godfather so in a way she has lightened up but will never admit it to him.
When out of school Scarlett got pregnant from a one night stand. She doesn't know who he was but she doesn't care because he gave her, her son. At first Scarlett didn't want him but then she gave birth and couldn't imagine herself without him. Her father had a reason to disown her, but that didn't stop Scarlett from getting revenge and taking all the money her family owned along with the houses and making her father homeless. She never felt more powerful then she was when she finally got her revenge.
A few years later while owning a shop and being a single mother, she slept with Artemis Capulet and ended up being pregnant. When she told him he wanted to be there for her but she of course never wanted him to be there for her. So when she got closer to her due date she left only to have Rhea Capulet follow her and beg her to give Artemis the child. So she demanded all his money for the baby. When she gave birth and heard that cry of her baby, she only got to hold her daughter for a minute before Rhea took her and went to Europe to give the baby to Artemis. She teared up but after five minutes of Rhea leaving she screamed because she felt labor once more. She had given birth to twins and when she held her other daughter she smirked because not only did Rhea leave her with nothing but cash and took her daughter, she never knew about the other child she gave birth to that day. When she was nice and healed she took her kids to Mexico and laid low for the day she would come back for her other child. And no one would know what hit them.
Scarlett wasn't an idiot. When Rhea confronted her about wanting the child for Artemis but since Scarlett is evil and diabolical she kept the secret fact that she was in fact having twins and not just one. But was she gonna tell Artemis or Rhea that? Fuck no. The cards were all in Scarlett's hands and that's the way she liked it.

Mother:
Name:
Rae Jorde   
Age:
38   
Living or Deceased:
deceased   
Blood type or Species:
Pureblood   
Occupation:
dead
Father:
Name:
Gary Jorde   
Age:
N/A   
Living or Deceased:
Don't know   
Blood type or Species:
Pureblood   
Occupation:
homeless
Siblings:
Name:
Age:
Living or Deceased:
Blood type or Species:
Occupation:Spouse/Boyfriend/Girlfriend/Partner/Fiance:
Name:
Age:
Living or Deceased:
Blood type or Species:
Occupation:Children:
Name:
Adam Ross Jorde   
Age:
13   
Living or Deceased:
Living   
Blood type or Species:
pureblood   
Occupation:
Student   
Name:
Lilac Rhea Capulet   
Age:
9   
Living or Deceased:
Living   
Blood type or species:
Pureblood   
Occupation:
Daughter   
Name:
Charlie Rain Jorde   
Age:
9   
Living or Deceased:
Living   
Blood type or species:
Pureblood   
Occupation:
Daughter
Pets:
Name:
Age:
Living or Deceased:
Blood type or Species:

Scarlett isn't much for history her father hated her and her mother died and Scarlett only knew that she was a Pureblooded cold hearted bitch that would ruin anyone who dared crosses her or her children. Scarlett is a long line of Pureblood and she doesn't know her son Adam blood because she doesn't know the name of the man she slept with but will always remember his face since Adam did look like him and Scarlett. But Scarlett was starting her own family so be damned with the past.