Elenore Clement
Adult





Posts

: 284


Birthday

: 2006-12-14


Join date

: 2015-12-12


Location

: Versailles, France


Subject: Re: New Year's Day, 2025 (The Clements) Tue Jun 26, 2018 2:46 pm

---

Once again the Lady Clement insisted on her departure from the Palace, to a place of higher education, and numbness crept in the to youngest Clement as she watched her Maman move to her father's desk to retrieve something.

You're not wanted here.

You're being cast aside again.

Mimosa will be welcomed in your absence.

As the brochure for the Royal Academy of Music was pushed in to the younger witch's hands, she could feel her fingers move around the paper, but she did not want to accept it. Many musicians might have jumped at the opportunity to play in such a prestigious school. The avenues it could open would be unrivalled but Elenore knew she had no future in music, why would she as a Pureblood witch, there was only one future for her, and her Maman was a living example of such measures.

But she was insisting on this folly?

To get you out of the Palace.

The Lady Clement continued pressing, and Elenore longed for her Grandmere's presence beside her. To deter her Maman. Perhaps even her Papa in that moment, for Elenore was quite sure that he would see reason, unlike her Maman. But Elenore would have been hoping her Papa would listen to her over his lady wife, and Elenore realised that even the great Lord Clement could not do such a thing.

Looking down at the brochure in her hands as her Maman spoke of business degrees, and speaking to the Headmistress of Hogwarts, Elenore's heart sank deeper. Why, she wanted to ask, why did she have to do something she didn't want to do? Didn't need to do?

"I will look in to it, Maman," Elenore said softly, in an effort to allow herself to be freed from the room. A lie, of course, Elenore had no such intentions, she would appeal to her Grandmere, to her influence on such matters, and... with time, it would go away.

Or... that was what the youngest Clement was hoping for, at least.
Mimosa Harrington
Slytherin Third Year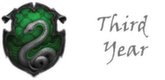 Posts

: 958


Birthday

: 2013-08-13


Join date

: 2017-07-22


Subject: Re: New Year's Day, 2025 (The Clements) Tue Jun 26, 2018 5:30 pm

---

When Elenore finally agreed to look over the material, Vanessa smiled proudly at her daughter. Of course Elenore would see reason, she was just a child sometimes and needed a little coaxing, it was endearing really how similar she was to Mimosa. They both required a certain amount of cooling before making the right decision.

And Vanessa had faith in her daughter making the right decision. She would be sure to impress on the relevant departments that Elenore be supplied with any and all material she would need to start working on her college applications. All manner of help would be available to the Young Lady Clement should she require it.

"'Thank you darling, and I'm certain you'll make us proud no matter which institute you chose," she spoke, her voice clear as a bell and ringing with sincerity. 'Any of those places will consider it there great fortune to be shortlisted by you, darling. Your Papa and I will see to that."

Bending down, the witch placed a soft kiss upon her daughter's forehead. Elenore was a good girl, even if sometimes slightly askew. She always came back to the right path no mater what.

"I must be off now. The legal team is meting before lunch and your Papa won't begin unless I'm there. I'll see you in the dining hall in a few hours, please ensure your brother is there too." With that, the Lady Clement calmly and elegantly swept out of the room, assured that she had just solved a problem .

And not started a much bigger one.