Elenore Clement
Hufflepuff Seventh Year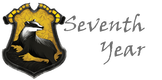 Posts

: 271


Birthday

: 2006-12-14


Join date

: 2015-12-12


Location

: Versailles, France


Subject: Re: Care of Magical Creatures - Lesson Three (All Years) Wed Jul 25, 2018 10:44 am

---

Elenore was vastly glad that the professor had not given credit for the answer given by the Slytherin witch that was, in short, completely off topic. Honestly, the school wasn't strict enough on that point at times, but Professor Venizelos was much different to the other professors in the castle. That, though, was a personal opinion that Elenore would not share with anyone, one that made her eyes move from the unicorn to the professor to give him a small, polite smile.

A smile that was gone a moment later because it did not need to be captured by others.

Elenore waited for someone to speak up with something else on the topic of unicorns. But, nobody stepped forth, so, tentatively, the Hufflepuff witch raised her hand, looking a little bashful in the process. Though, the witch reflected, if nobody else was going to participate, why shouldn't she?

"The foals are not born with the horns we would normally associate with a unicorn. The horns of a unicorn do not come through until they're four, so, all in all, a unicorn transforms quite a lot to become the beautiful, majestic creature like we see here today." Elenore finalised, hoping this would be enough to appease the Professor, and that they could move on.
The Administrator




Posts

: 1135


Join date

: 2015-12-20


Subject: Re: Care of Magical Creatures - Lesson Three (All Years) Sun Sep 23, 2018 11:35 am

---

Admin Closure of Class.

Thank you to those who have posted in this class - unfortunately the professor cannot finish up the class, so an admin will close it. Points will be given as follows:

10 points for attendance

5 points for any question being answered

Up to 15 points for participation in class

Thank you for your participation - this will still count as one of your three classes.

If you have any questions in regards to the points being handed out (either as a student or professor) please contact myself or another admin via PM to discuss them.

House Points

Dominique Greene = 10 points for attendance

Elenore Clement = 10 points for attendance + 5 points for answer + 5 additional points for answer = 20 points.

Sasha Denver = 10 points for attendance

Dimitri Moreau = 10 points for attendance

Elena Bliss = 10 points for attendance + 0 points for answer (per professor) = 10 points.

TOTAL:
Gryffindor: 10
Hufflepuff: 30
Ravenclaw: 10
Slytherin: 10