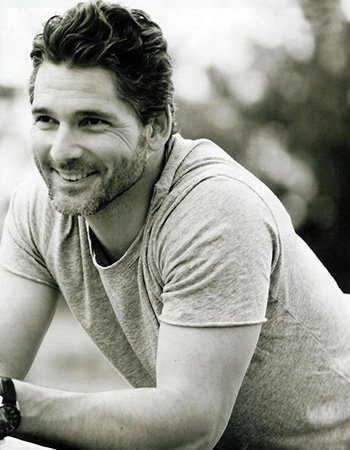 General
Full Name:
Kamren Eric Jennson
Age:
47
Date of birth:
19th February 1970
Birthplace:
Belfast, Northern Ireland
Current home:
Dunmurry, Northern Ireland
Blood Status:
Halfblood
Sexual Alignment:
Heterosexual
Wand type:
11", Yew, Dragon Heartstring
Looks
Hair colour and style:
Brown hair - starting to grey with age and stress of the work place - that's relatively short, but still long enough to run his fingers through when he's thinking.
Eye colour:
Dark Brown.
Height:
6 foot 2
Body type:
Relatively muscular, but not excessively so. Kamren looks after himself, but it's not the be all and end all if he's not as muscular as he was in his teens.
Dress sense:
As Minister for Magic, he is obviously dressed well for work. Suit and tie most of the time as he's a busy man. But on his off days, Kamren is as laid back as any other man, rocking t-shirts and jeans or whatever is comfortable for the situation.
Personality
Likes:
  - Children - Kamren always dreamed of having lots of children, but unfortunately his wife and he are unable to fulfill this dream on their own.
  - His beautiful wife.
  - Seeing his wife happy, no matter how much it costs to do so.
- His job, Kamren has worked hard to be where he is, and he loves it.
- Hot chocolate.
- Small animals, but not as pets.
- Music of a calming nature.
- Playing the piano after a stressful day (so long as it isn't the early hours of the morning, of course).
- Reading
- Board games
Dislikes:
  - People who think they are a law unto themselves - hence he heads the governing body of law.
  - The fact that some other force of nature has stopped Clarinda and him having their own, beautiful children.
  - People who push for instantaneous answers on complex matters.
- The rain.
- Prejudice.
Strengths:
  - Loyal in every manner of the word, to his wife, his friends and family, nothing could sway his loyalties.
  - Open-minded
  - Self-control, Kamren will always allow people their fair share of chances before he steps in. He won't jump in to fixing it in an instant, and prefers to nurture the situation in the end.
- Reliable.
- Sensitive to the feelings of others.
Weaknesses:
  - His wife being upset - Kamren will work hard to right this by whatever means possible.
  - Sensitive to the feelings of others.
  - Many might deem Kamren short-sighted because he gives out too many chances to others, but he would argue against that.
- Lenient.
Positive traits:
  - Kamren has the patience of a saint, you have to to work to the heights he's achieved from nothing.
  - Firm but Fair - Kamren is not a walk over, but he will only ask of people what he believes they are capable of doing.
  - Endurance - to get to the top you have to be ready to endure lots of different things, and of course, Kamren is proof of this fact.
- Selfless.
- Loving.
- Trustworthy - Kamren's head is full of secrets, so he is definitely a man to offload on to and know no one else will find out.
- Ambitious - but not to an extent that it would cost others.
Negative traits:
  - Protective to a fault. Clarinda's past has made him very protective of her (even if she doesn't need him to be) and of those he loves.
  - Overly hard-working - long shifts are not something Kamren is afraid of, and over the years he has spent too long in the office, but he's getting better.
  - Fussy about the placement of his belongings. Kamren isn't keen on finding his possessions in a place that is not it's designed place.
Background
Kamren was brought up in a Belfast, a city that was most unforgivable to those who did not know it - as any city was. However, Belfast during his childhood was mobbed by the Muggle gang, the IRA. Most days were lived in fear of being bombed, and seeing his parents go from meeting to meeting with those who wished to stay out of the war on the streets.
Due to this, Kamren's upbringing was different to most childrens - he spent a lot of his time reading. On any and every subject he could lay his hands on. He practiced board games in his free time, played with his tin soldiers alone whilst his parents went about their business.
It wasn't a bad life, though, Kamren was brought up in a warm, loving house (yes there was some tension, but that wasn't let out at him). On his eleventh birthday, Kamren received his Hogwarts Letter, and the relief on his mother's face that he would be getting away from the torment of the gang was enough to let Kamren know he had to make her proud of him. He promised her he was going to change the world - one day - and left for Hogwarts.
Studying hard throughout his life at Hogwarts (after being sorted in to Slytherin - ambition seemed to run through his veins enough to sway that hat, though he did contemplate Hufflepuff and Ravenclaw first before the decision was made in full), Kamren left with some of the top marks in his class - his mum cried at his graduation with pride when she heard, his father holding her close with a smile on his own lips.
Kamren joined law enforcement upon leaving school and helped combat against both magical and muggle conflicts. The ranks he moved through quickly, becoming Head of the Magical Law Enforcement department at the age of twenty five.
It was this year, with his new promotion that Kamren met Clarinda. Though it wasn't in the nicest of circumstances that they did meet. Hurrying in to the hospital behind his father's wounded body, Kamren watched numbly as the Healer's worked to try to save the man he'd always looked up to. A bomb had gone off in the street as his father took out the rubbish that day, and only second later a mob had arrived (wizarding families who thought Ireland should be a seperate entity) wreaking havoc as they went.
Cecil died only an hour after arrival, and it had been Clarinda who came by his seat, where he sat numbly looking at the floor. She had asked if he was okay, looked after him with a cup of tea, and kind words until he'd calmed enough to be okay to leave. She hadn't worked on trying to save his father's life, but she had been there when he needed someone.
A week later, Kamren was back at the hospital, with work, and upon seeing the young witch again, he had asked if he could take her for dinner, as a thank you for her comfort. Clarinda had agreed to dinner, and from there, Kamren had picked her up every Saturday for dinner, until, one year later, on a Saturday night, Kamren asked her to marry him.
She said yes, and six months later, they had wed, and moved back to Northern Ireland to start their new life together.
It hasn't been the least stressful of marriages, of course not, there have been plenty of struggles over the years. Mostly around children, but financial matters, insignificant arguments. But, at the end of the day, there is simply no denying that Kamren and Clarinda were made for one another.
Family
Mother:
Name:
Charlotte Jennson  
Age:
69  
Living or Deceased:
Living  
Blood type or Species:
Halfblood
Father:
Name:
Cecil Jennson  
Age:
58 (at the time he died).  
Living or Deceased:
Deceased  
Blood type or Species:
Halfblood
Spouse:
Name:
Clarinda Jennson  
Age:
Living or Deceased:
Blood type or Species:
Family Background
Charlotte and Cecil met one another in a time of uncertainty. Northern Ireland was over run with rebels that believed they could do better for all the Irish citizens. Charlotte and Cecil were part of the movement who worked against such things. They were relatively young when they met, and fast lovers. Meeting in December 1968 at a meeting of those against the IRA, the two went for a drink, and (somewhat foolishly) went home with one another the very same night.
Cecil and Charlotte kept up the relationship, until May 1969 when Charlotte announced she was pregnant. Cecil, being an old fashioned man had bought her a ring the very next day, and the weekend after, they were married. No one ever questioned the timing of the marriage, and many put it down to the uncertainty of the times.
But Charlotte and Cecil were happy, and with a son, they made sure to make the best life they could for him.