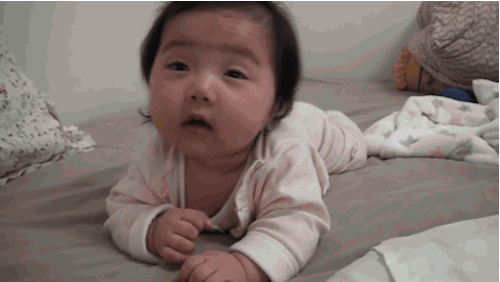 Naomira pulled all of her hair from one side of her face to the other as she finished feeding Emélie. She smiled down at her baby girl, joyously toying with the little ponytail that she created with all the locks the little Jameson had. Her heart warmed at the fact; this was not just her baby, but also Daniel's baby. She looked up at the clock as she readjusted her clothing and lifted the slowly growing baby up and down as if she were on a bungee cord, giggling with the baby herself. Theo was to wake up from his nap any minute now, and then he'd want to take Emie into her nursery and play with her. Emie at eight months was getting to an age where she could sit up, and nearing the age when she would be able to crawl. A month ago she was able to lift her head up by herself, no support needed for her neck.
She had strong cognitive abilities too, that was what the Healers told Naomira anyway. She laughed at the appropriate times, barely cried throughout the night, and was even blurting out syllables. Nothing important! Mostly just "gaaahh" and "phlew phew", with the occasional spit bubbles. Naomira always cringed at the sight of the little spit bubbles, but Emie's older brother thought they were the funniest little things. Naomira was always amazed at how mature her son was, but more so with Emie around. He held her dutifully, carefully, and was always slow. She was fairly big too; big enough to fit perfectly on Theo's torso as he held her to his chest and walked around the manor with them. From what Naomira saw, every time he did carry her around, he told her little stories he knew about the manor. She especially loved their garden tea times when Theo took Emie out to the garden, as she watched from the veranda, and Noddy supervised up close too to make sure everything was alright.
Apparently according to Noddy, Theo would make up wonderful stories, completely original ones to tell his baby sister in the most animated way. It warmed her heart to think of her son loving his baby sister so much. She settled back against the couch with Emie curled up against her chest. When she woke back up, Emie did as well, though her face was only scrunched up. Naomira rose and stretched the best she could with her baby in her arms as she walked towards her son's room. When she found his room empty, her brows furrowed. She called for Noddy who went to find him, and reported him in Emie's nursery. With confusion written all over her face she walked the few steps towards the room, her baby girl gurgling in her arms, what she was too adorable for words.
Theo had made little paper origami creatures of dragons, fairies, swans, dogs and hung them around her room from strings. He turned around and smiled proudly at her. "Surprise!" He exclaimed and his baby sister started gurgling more as she noted his voice. "Hiya Emma," he cooed as he hopped down from the chair he was standing on and tickled her little nose. "May I hold her, mummy?" He asked politely smiling up at his mother. She broke out of her reverie and smiled, nodding as he took her from her arms.
"Is it tummy time for Emie?" Theo asked as he cautiously walked towards the crib with foldable edges. Naomira smiled and wrapped her arms around her, watching the scene unfold happily as he undid the edges and lied Emie flat on her stomach.
With the ability to hold her head up came the necessity to crawl; tummy time was lying the baby on their stomach and seeing how much mobility they could achieve. Theo usually led tummy time with Naomira supervising off to the side with a happy smile on her face. She loved this; parenting was so much easier with two people support you, she thought gleefully as she ran her fingers up and down the engraved dresser that Aunt Yuni had sent of Emélie.
I could do this forever, Naomira thought happily as Emie continued to get another step closer to crawling. Theo sniffed the air, pausing, but not loosening his grip on Emie, a smile grew on his face as he shot a look to his mother. "Daddy's home, momma." He said with a smile before focusing on Emie again. She stood quickly and peaked over at the mirror to try and fix her haphazard appearance, flushing when she realized there was no use unless she chose to change out of the jeans and tank-top with a black zip-up jacket. She ran her fingers through her hair, smiling before she turned to see him enter.
"Hey." She greeted in a soft tone, still smiling, tucking her hands behind her back, "how was work?"