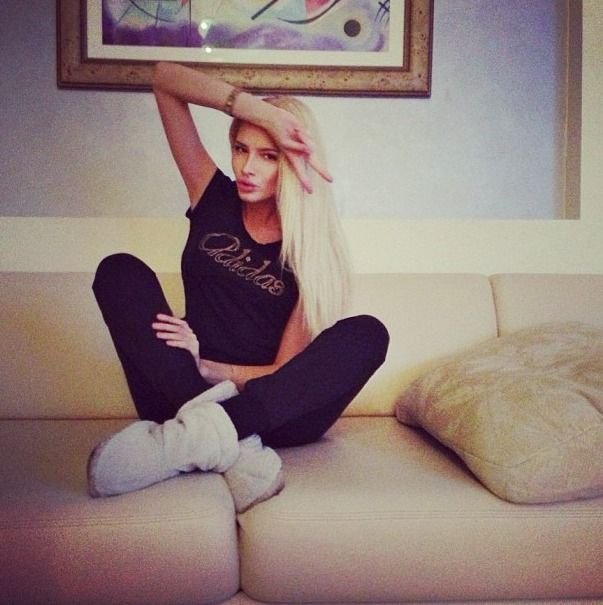 General
Full Name: Amethyst Emerald Vine
Age: Sixteen
Date of birth: November 12th
Birthplace: Wales
Current home: London, England
Blood Status: Halfblood
Sexual Alignment: Heterosexual
Wand type: 12 1/2 inches, Dragon Heartstring, Vine
Looks
Hair colour and style: Ems has long blonde hair that go past her waist
Eye colour: Ocean blue
Height: 5'7
Body type: Curvy, Model like
Dress sense: Fashionable, Cute. She usually goes with anything she finds cute and thinks it suits her.
Optional
Birthmarks: N/A
Tattoos: One on her left wrist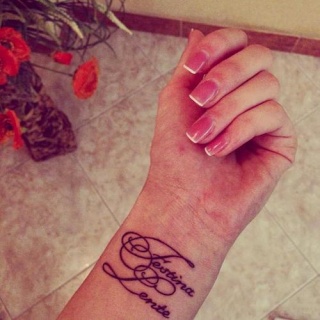 And one on her left shoulder blade
Scars: N/A
Piercings: N/A
Personality
Likes:
*Dancing
*Pranks
*Animals
*Boys
*Swimming
*Parties
*Lollipops/Sweets
*Dueling
*Muggle TV Shows
*Taking Pictures
*Sketching
*Tattoos
*Music
*Books
*Hugs
*People playing with her hair
*Romance
*Piercings
Dislikes:
*Being forced to do things. (She simply won't do it or feel extremely pressured and break into tears
*Being teased too much
*Liars
*Smoking
*Fighting
*Chocolate(She might love sweets but chocolate is the exception)
*Studying
*Being judged
*Gossips
*High heels (She does wear them but doesn't feel really comfortable in them)
*The colour black (Except if it's shoes)
*Quidditch/ Flying
Strengths: Dueling, Arts,
Weaknesses: Flying,
Positive traits: Trustworthy, Fun, Loyal, Fighter
Negative traits: Shy, Low Self Esteem, Very Sensitive, Stubborn
Amethyst is a very open person, even though she is quite the shy one. She has a few friends and wishes for more, and she tried every day to gain as much friends as she can. She believed that having many friends does not make you popular, but it shows that you are a fun person to be around. You have people to trust and turn to when you need something, and they can rely on you just as much as you do on them.
She is also very very innocent. She has never had a boyfriend of any short, neither has she had her first kiss yet. She blushes furiously when complimented and feels very awkward when discussions involving sex, makeouts and love pop up, since she has zero experience in all of these. She is the romantic type of girl that expects her Prince on a white horse, even though she knows it's kind of impossible, since everyone has flaws. After all, she doesn't consider herself a princess.
Amethyst also has very low self esteem. Even though she is an absolutely stunning girl, both on the inside and the outside, she believes she is not good enough, and sometimes finds herself being compared with others. She sometimes even tries to change herself just to be wanted, which is something she hates doing, but finds it necessary.
Amy is also very very sensitive. If she feels pressured, she cries. Right away. If she is extremely angry, she takes her anger out through crying. She gets hurt easily, so people need to be very careful with how they talk to her, or handle her in general. Her mother kept saying that she is like a porcelain doll. Pretty, but fragile.
In general though, she is a fun and sweet person. She liked to have fun without being too extreme, and tries her best to be a good friend and daughter. She is loyal, patient, sweet, and will do anything as long as you don't hurt her.
Background
For Amethyst growing up in a loving and caring family was a blessing. She loved both her parents and got along with them really well. Of course they had their fights, but she knew it wasn't anything too serious.
She wasn't extremely spoiled, and spent most of her time with her mother. Her relationship with her father was really good, but she just didn't feel so connected with him.
When she was thee years old, her sister was born, and Amethyst was the happiest she could ever be. She loved the fact that now she wouldn't be alone, and that she would have someone to play with and share stuff.
What made her sad though was the fact that since her sister was born, he paid a lot more attention to Sapphire than Amethyst, and she knew that even though he wasn't admitting it, her father loved Sapphire more.
Though Amethyst did not let that phase her.
Her Hogwarts years were the ones she enjoyed the most. She learned new things, even kinda fought her fear with Quidditch. Although there was no way she was touching a broom, or flying, she learned to put up with it.
And once her sister came to Hogwarts too, it was amazing. Amethyst looked out for her sister, and Sapphire looked up at her sister as the perfect example.
Amethyst felt kind of alone though, due to the fact that she had done nothing with a boy, while all of her girl friends had. Sometimes they teased her about it and it made her sad. Even made her cry. But she learned to hide that, for the most part. And life was a lot easier after that.
Family
Mother: (Halfblood)
Anne Marie is 50 years old, and works as a Journalist for the Daily Prophet. Her relationship with her daughters is a very loving and understanding one. They do have their fights, especially with Amethyst, but they make up in no time.
Father: (Pureblood)
Nathaniel James is a 52 years old man who also works as a Journalist for the Daily Prophet. His relationship with his daughters is better than expected, even though she has a soft spot for Amethyst's sister, while he is very strict with Amethyst. Amethyst doesn't really like him either, after he dared to raise a hand on her.
Siblings: (Halfblood)
Amethyst has a younger sister named Sapphire. She is a Third Year, meaning she is 13 years old. She attends Hogwarts like her older sister. Amethyst and Sapphire get along amazingly. Amethyst loves her and Sapphire looks up to her. Whenever she needs help with her Assignments she asks Amethyst to help her, and she is always there for her, of course.
Optional
Pets: A Barn Owl named Hera
Family Background
Both her parents grew up in loving and caring familes. Her father is a Pureblood, but his parents were never strict. In fact, their whole bloodline had never been known for the traditional Pureblood ways. They preferred their own loving and caring environment over the cold way  Purebloods usually raised their children.
The Vines are not one of the most known Pureblood families, but they are not at the base of the pyramid either.
Amethyst's mother is a Halfblood. Her mother was a Muggleborn, and her father a Halfblood. They had fallen in love during their Hogwarts years, and once they both Graduated, they quickly got married. Soon after they gave birth to a boy, Anne Marie's older brother. Two years after Anne Marie was born.
She grew up with all the love and care, and she was always spoiled by her brother.