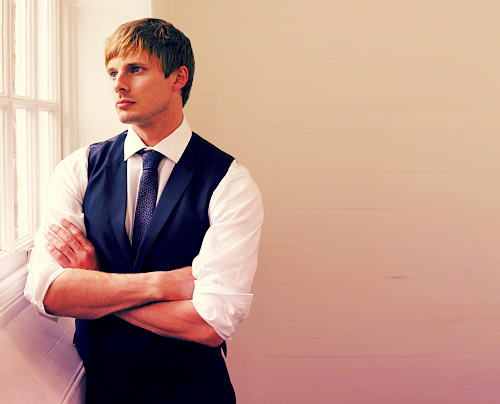 Full Name:
Joshua Ethan Murray
Age:
25
Date of birth:
25th November 1996
Birthplace:
Murray Manor
, Cardiff, Wales
Current home:
Murray Manor, Cardiff, Wales
Blood Status:
Pureblood
Sexual Alignment:
Heterosexual
Wand type:
12.5" Yew, Dragon Heartstring

Hair colour and style:
Short blonde hair, normally kept tidy.
Eye colour:
Deep blue
Height:
6 foot 1
Body type:
Muscled from a lot of Quidditch and working out.
Dress sense:
Perfect all the time. Normally in a suit unless exercising. Or at least a smart shirt and nice trousers.
Birthmarks:
None.
Tattoos:
None.
Scars:
A scar from when he touched a hot vial of potion in his father's study that was cursed. It's on his right hand, and for some time people thought he would lose the use of his right hand, but his mother managed to contain it to the top of his hand, but it's not noticeable.
Piercings:
None.

Likes:
  - Control -- Josh must be in control at all times.
  - Potioneering -- the Murray family is notorious for it. It's not so much a like, rather more of something he excels in.
  - Quidditch -- more specifically Josh likes the Beater position due to the violent nature of the position.
  - Collecting things.
  - Hunting.
Dislikes:
  - Idiocy.
  - People who think they would be able to out do him.
  - Affection.
Strengths:
  - Josh is very cool headed under pressure - often to the extent it gets scary.
  - Josh's power of manipulation is unrivalled, and almost always, nobody knows that they're even being subjected to his manipulation techniques.
  - Pain doesn't register to Josh, which makes him quite strong in the mind as well as the body.
  - Azalea Harrington.
Weaknesses:
  - Josh is hopeless with emotions, therefore reading other people's is insanely hard for him.
  - There is no notion of remorse from Josh, which has led to him pushing many people away.
  - Josh is incapable of allowing other people in, he works on his own almost all of the time where possible, because he knows he can rely on himself.
  - Azalea Harrington.
Positive traits:
  - Confident.
  - Natural leader.
  - Cunning
  - Ambitious
Negative traits:
  - Selfish
  - Demanding
  - Arrogant.
  - Inconsiderate
  - Obsessive
  - Violent.

Josh grew up around parents who were too busy finalising their divorce to look after the little boy who had come about as a result of their short lived marriage. They thought the various servants and elves would keep their son occupied while they settled the long, drawn out business of dividing assets. They were right in a way, Josh was occupied but he also learned a lot about negotiating, cold treatments, manipulation and most importantly, how to get what you want. As a result, he grew up a selfish and demanding child who would throw tantrums when he didn't get his way.
When Josh started school however, he realised that his usual MO wasn't going to cover it and after being sorted, decided to adopt his house virtues and make them his own. Today, Josh is extremely cunning, a natural leader and still hell bent on getting what he wants no matter what the price. But beneath all this, he's still a lonely child who has no one to look up to and give him affection. At twelve, he's learned to pretend he doesn't need it from conventional sources but he's open to exploring the unconventional ones.
Through his time at Hogwarts, Josh rose through the ranks, making the Quidditch team in his second year, he was Captain in by third year. In fifth year he was appointed as a Prefect, and then in his final year, he was Head Boy.
Since leaving Hogwarts only two things are clear of the Murray heir. Firstly, he completed a degree in Potioneering, winning the highest honours available -- not that the Murray heir was trying to prove anything.
Secondly, the death of his father -- rumoured to be linked with The Basilisk regime meant he was appointed head of the Murray household.
No one really knows what Josh has been doing otherwise, and he is not interested in divulging this information to anyone, either.

Mother:
Name:
Eleanor Murray    
Age:
51    
Living or Deceased:
Living    
Blood type or Species:
Pureblood    
Occupation:
Mediwitch at St Mungo's, Director of the Dylis Derwent Centre of Post Mortem Investigations.
Father:
Name:
Layton Murray    
Age:
53 (when he died)    
Living or Deceased:
Deceased    
Blood type or Species:
Pureblood    
Occupation:
Independent Potioneer

Eleanor and Layton were second cousins and knew each other very well growing up. Both families decided that there couldn't possibly be a problem with them getting married but perhaps the fact that they knew each other so well was what led them down the road to divorce. Today, they maintain brittle communication with each other and formal relations with their only son. Both are unmarried and both claim to be happy this way.