Guest
Guest


Subject: Clarinda Jennson's Plot Page Sun Jun 04, 2017 5:39 am

---

Clarinda Jennson47 || Head Healer of the Spell Damage Ward at St. Mungo's || Muggleborn || Married to Kamren Jennson

Patient. Compassionate. Resilient. Stubborn. Closed (at times). Overly-giving.

Brief History:

Clarinda has had a tough past, and has overcome a lot, becoming the Head Healer of the department she loved the most. Married to the Minister of Magic, he is her rock as much as she is his. Her life motto is "overcome evil with good", a statement she had once heard and adopted since.

Brief Personality:

She loves helping people, although sometimes she can wear herself out, and needs to rely on her husband to realise that she just needs to take a step back. Kind-hearted, she is the epitome of the perfect Healer and takes joy in her job.

Looking for:

~ Friends, especially Healers

~ Possibly someone she can mentor

Current Plots:

~ Married to Kamren Jennson

~ Adopted Lux Bailey
Jake Newbury
Hogwarts Staff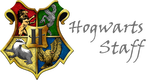 Posts

: 775


Birthday

: 1992-08-13


Join date

: 2014-11-29


Location

: London, England


Job/hobbies

: Auror & DADA Professor


Subject: Re: Clarinda Jennson's Plot Page Tue Jun 06, 2017 8:28 pm

---

~ Friends, especially Healers

Adrián García -- he works on the children's ward (technically there is not a specific area laid out for this, but that's his specialism) so their paths could definitely cross on this path.

Jake and Clarinda can definitely be friends, should we be able to work out a place in which they can meet - though I do have an idea re. his children which can tie in both Jake and Adrián to Clarinda.

~ Possibly someone she can mentor

Oliver wants to be a Healer when he leaves school (nice tie here, heh) so I don't know if we can look in to some development here? It might tie in to the Serenity plot?