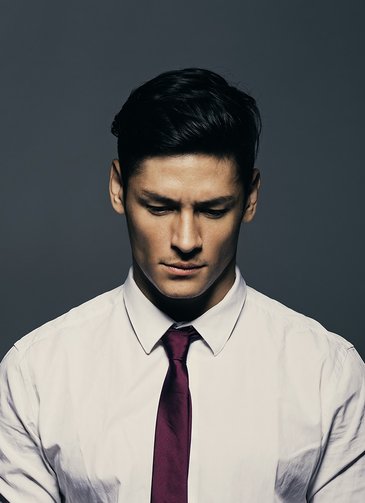 General
Full Name:
Adam Samuels
Age:
23
Date of birth:
18th January 1993
Birthplace:
Hong Kong
Current home:
London, England
Blood Status:
Pureblood
Sexual Alignment:
Heterosexual
Wand type:
Ash, Dragon Heartstring, 11 inches.
Looks
Hair colour and style:
Black, short and somewhat slicked back.
Eye colour:
Brown
Height:
6"2
Body type:
Muscular in all areas, but not bulky.
Dress sense:
Whatever suits the occasion.
Personality
Likes:
  - Keeping himself busy.
  - Helping people.
  - Experimenting on new cures.
  - Going to the gym in his free time.
  - Getting around (the ladies).
Dislikes:
  - Losing patients.
  - People who think he's a miracle worker.
  - Lateness.
Strengths:
  - Can work for long hours with minimal fatigue.
  - Healing.
  - Potions.
  - Resourceful.
  - Intelligent.
Weaknesses:
  - Offensive Magic
  - Family.
  - Failing at anything.
Positive traits:
  - Confident.
  - Steady hand and mind.
  - Patient.
  - Caring.
Negative traits:
  - Commitment issues (relationship wise).
  - Flirtatious.
  - Committed to his work.
  - Easily changeable.
  - Not great socially.
Background
Adam was born and raised in Hong Kong by his parents. They loved him well enough, and made the world his oyster. Once he'd finished his first years at the Wizarding School, Adam had moved on to University, studying the art of healing as he'd wanted to. His parents had been very proud of him for pursuing such a career, despite there being no need to.
However, when Adam had just finished his training, an unfortunate accident with his parents meant that he was left orphaned. Deciding that staying in Hong Kong was not an option without them around, Adam left his home to pursue a career in England with his degree.
Which is where he's been left today.
Family
Mother:
Name:
Su Li Yung  
Age:
46  
Living or Deceased:
Deceased  
Blood type or Species:
Pureblood
Father:
Name:
James Samuels  
Age:
48  
Living or Deceased:
Deceased  
Blood type or Species:
Pureblood
Family Background
The Samuels were always a family of unknown power. Mostly because they kept to the shadows to avoid detection. Most especially when James Samuels left the UK to find other opportunities in the world.
Somewhere in the fourteenth century is when the family can be traced back to, when they took over the land of a lord who had lost favour with the current King. The Samuels had taken it in haste, and remained a lowly family for years.
Of course, they have their wealth, but it would be nothing in comparison to many of today's Purebloods.
The Samuels stay out of the affairs of magical war, because they have learnt through the years that nobody troubles those who do not make themselves known.