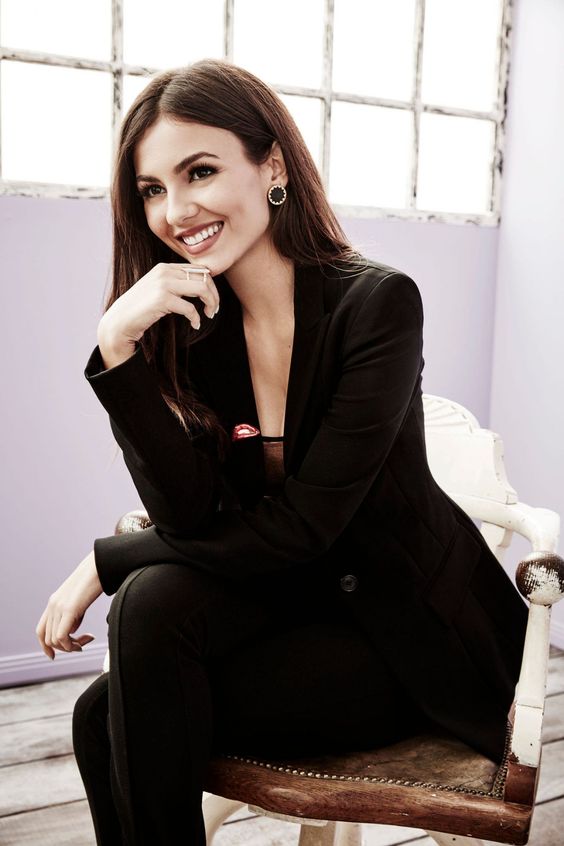 Full Name:
Victoria Alys Newbury
Age:
25
Date of birth:
13 February 1998
Birthplace:
Eden Prairie, Minnesota
Current home:
London, England
Blood Status:
Halfblood
Sexual Alignment:
Pansexual
Wand type:
Hippogriff Talon, Maple, 11 Inches

Hair colour and style:
Long, straight brown hair that reaches the middle of her back easily.
Eye colour:
Brilliant blue eyes that are always shining with happiness.
Height:
Only five foot tall due to many years in a wheel chair, growth was slightly stunted.
Body type:
Very slender due to her dancing skills.
Dress sense:
Victoria is very girly in regards to her wardrobe, compromising mainly of dresses decorated with flowers and usually heavy with the colour of pink, Victoria is the picture of innocence in everything she does.
Birthmarks:
None.
Tattoos:
None.
Scars:
A small scar on the base of her back shows where Victoria under went surgery to correct her paraplegia a couple of years ago.
Piercings:
None.
Likes:
  - Dancing
  - Sunshine, warm summer days that can be spent down by the lakes.
  - Reading, books are a very big part of Victoria's life.
  - Exploring anywhere and everywhere when she has a free moment.
  - Dancing and listening to music.
  - Helping those in need.
  - Working to uphold the law.
  - Meeting new people -- Victoria is a social butterfly despite her bookish ways.
  - Any, and all, animals. They're the cutest!
  - Her niece and nephew. (well, love, not like).
  - Site seeing.
Dislikes:
  - Violence.
  - Swearing.
  - Seeing people upset/in need.
  - Liars.
  - Being without a good book for a long period of time.
  - Seeing people cast aside because they can't afford the help they need in life (this is how Victoria found her love of pro-bono work).
  - Being cooped up indoors for too long.
Strengths:
  - From Victoria's vast reading, she is very intelligent on many subjects.
  - She doesn't judge people and gives them every chance to be her friend.
  - She has the ability to make everyone's day better, just by smiling at them.
  - Overly caring of those around her, even if she doesn't know them very well.
  - Including -- Victoria will not allow someone to be left out, and therefore makes sure everyone has what they need.
Weaknesses:
  - Very naïve in the regards to the world and everything in it.
  - Victoria trusts people very easily which has led to her being hurt on a number of occasions.
  - Being so small, Victoria is physically quite weak which can make her an easy target to bullies.
  - Children, Merlin those little ones will have Victoria doing almost anything to keep them happy!
Positive traits:
  - Honest.
  - Hardworking (almost to a fault)
  - Lovable.
  - Bubbly.
  - Great at keeping to deadlines, no matter the significance.
  - Good at making sure the things that are of high priority are given the attention they are needed, whilst not forgetting the smaller things in life.
Negative traits:
  - Sometimes annoyingly cheerful
  - When Victoria gets in to her work, it is very difficult to get her out of it. Whilst many people would see this as a positive, Victoria will work on her cases to the point of self-neglect, because she cares deeply.
  - Often sees the world through rose tinted glasses.
Victoria spent the majority of her childhood a happy child who doted on her older brother. They would spend every spare moment together reading, drawing, exploring. Jake was her idol until he went to Salem. Victoria, no matter what she said otherwise, had felt lost without her brother around anymore.
Victoria remembered almost everything that Jake had ever told her, doting on his every word and trying to make him proud of her. It was the need to impress him that had cost her. Jake had always spoken about the various school trips he'd been on with the Muggle school, and despite her fear of adrenaline fuelled activities, she'd signed up to the school trip he'd told her would change her life.
Victoria would never have believed her brother's words would be so literal when she woke up in hospital. Jake was beside her, sobbing. She knew she was different, but she was clever and knew that although she herself couldn't do all the things the pair of them had dreamed of, Jake still could.
Since the accident, Victoria had worked to keep as much as her independence as she could. Although she has twenty-four hour care she was keen to do as much by herself as possible. The witch took on her first couple of years at Salem under this bravery, and after many ups and downs through the years, she managed.
It was in the summer of 2012 that the cure for her condition was found by a witch close to the family at the time. Since then, Victoria has dealt with getting readjusted with her use of her legs and become vastly independent. After an attack on her old school, Victoria moved to Hogwarts School of Witchcraft & Wizardry and never looked back.
Earning a place as a prefect in her sixth year, Victoria went on to be the Head Girl of Hogwarts School of Witchcraft & Wizardry. But, Victoria didn't stop there, no, she went on to finish with the highest grades in her year, something she is immensely proud of.
Since leaving Hogwarts, Victoria studied law, once more graduating amongst the highest graded students of that year. She instantly took a job at the Ministry, working in a multitude of areas as she tried to decide which field she wished to settle in to. The Ministry, however, did not give Victoria the answer, and she has since moved on to Darby International in the hope of finding her calling there.

Mother:
Name:
Alexis Newbury (nee. Keen)    
Age:
52 (when Victoria is 25)    
Living or Deceased:
Living    
Blood type or Species:
Halfblood    
Occupation:
Housewife and doting Grandmother.
Father:
Name:
Henry Newbury    
Age:
54 (when Victoria is 25)    
Living or Deceased:
Living    
Blood type or Species:
Halfblood    
Occupation:
Ministry Official (USA)
Siblings:
Name:
Jake Newbury
Age:
30 (when Victoria is 25)    
Living or Deceased:
Living    
Blood type or Species:
Halfblood    
Occupation:
Auror, Professor and awesome Father.

The Newbury's aren't the wealthiest of families, but they don't go wanting. Henry has a respectable job at the Ministry in the Improper Use of Magic Department. Alexis busies herself with the cleaning of the house, as the Newbury's do not own a house-elf. Victoria attended the samed Muggle Primary School that her older brother went to, but like her brother, is now being home tutored.
The family own a small cottage at the end of the village, and have integrated well with the neighbouring Muggles, although a few of the older generations think there is something "wrong" with them. Mrs Newbury joins the other ladies for lunched every week, where they alternate houses to share gossip - something Victoria hounds Jake into helping her listen to so she isn't "left out" when she is old enough to attend.
All in all, the Newbury family are, what most people would call, an average family.