Mimosa Harrington
Slytherin Second Year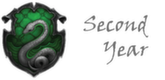 Posts

: 908


Birthday

: 2013-08-13


Join date

: 2017-07-22


Subject: Re: DADA Duel - Elena vs Mimosa Wed Jun 20, 2018 9:39 pm

---

Mimosa watched gleefully as her spell indeed hit Elena square in the back, and her face immediately turned into a horrified mess when she saw chains erupt around the older girl's ankles. While she hadn't known what the spell did before performing it, she had no hesitation in accepting that she had done it perfectly regardless. For a moment, the American was sure the sinking feeling in her stomach was from watching the chains tangle around Elena.

It took a few seconds to realize that she was falling.

Of course Mimosa would never have had the foresight to consider that her dueling partner's concentration was the only thing keeping herself up in the air. So the moment Elena tripped, her levitation charm was released - causing its hold over Mimosa to wan as well.

And now the stone floor of the classroom was rushing up fast, promising to meet the girl's tiny body in a very painful way.
Jake Newbury
Head of Gryffindor





Posts

: 963


Birthday

: 1992-08-13


Join date

: 2014-11-29


Location

: London, England


Job/hobbies

: Auror & DADA Professor


Subject: Re: DADA Duel - Elena vs Mimosa Sun Jun 24, 2018 2:05 pm

---

Despite knowing that favouritism was not a remarkably professional way of working when it came to teaching, Jake could not help it. In fact, he had fallen victim to it twice now. The first time had been with Mercy Williams, the little spitfire of a Gryffindor had always brought a smile to Jake's features, and he couldn't help but want to ensure she did well both in his class, and in class on the whole.

The second time had been... less about academic favouritism, but because the child was his daughter. Before knowing who Mimosa was, Jake had known that Mimosa was a good student, amusing in some of her answers, and all together a good kid. The school had obviously told the teachers to look out for the young witch with her multitude of health issues, and that had warmed Jake to the witch in the first instance. The warmth, though, had grown exponentially upon finding she was his daughter, and with the extra warmth came a protectiveness of the child, too.

Which was why Jake was keeping more than half an eye on Mimosa's duel, making sure she was going to be okay, and not getting hurt. It had started with the errant spell that Jake had had to put right with another unsuspecting student, undoing the effects and then keeping an eye on Mimosa once more. The witch was having fun, though, and Jake couldn't help the small smile upon his lips as he watched her.

As she got levitated in to the air, though, Jake became a little wary, and moved closer to Mimosa's end of the duel. Trying not to look like he was keeping an eye on the witch even though he was. It was either his Auror training that made him wary in that moment, or else his knowledge from being a father, but the next spell that had been sent out from Mimosa's wand brought with it the realisation that she was about to drop, and Jake moved instinctively below the witch, catching her out of the air with ease.

"Steady, Mimosa!" Jake told her softly once he was sure she was safe, before putting her back on the ground without a bump, scratch or bruise in sight. Azalea would want to know about this, Jake thought to himself, before remembering the other witch.

Flicking his wand at Elena, the chains disappeared, and the witch could move freely. "I think that's enough for today, ladies. Well done on your duel, it was a very entertaining watch!" Jake told them, because he did not need any harm to come to his daughter, not now that the two of them were seemingly getting more creative.

________________________________________________

~ Auror ~

Profile

~ DADA Professor ~

~ Physically Fit ~ 32 ~ Father ~ 6' ~ American Accent ~

Thanks to the amazing Jess for my signature! <3