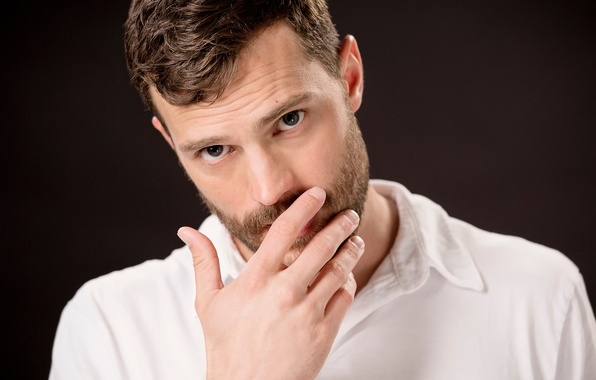 Full Name:
Caspar Jonathan Loverin
Age:
30
Date of birth:
30 November 1989
Birthplace:
Dublin, Republic of Ireland
Current home:
Glasgow, Scotland, or Hogwarts.
Blood Status:
Halfblood
Sexual Alignment:
Heterosexual
Wand type:
11" Hornbeam Wand with Dragon Heartstring Core

Hair colour and style:
Dark brown hair that, when caught in the sunlight, can look somewhat lighter, but isn't really. It's relatively short, though you could most certainly run your fingers through it too. Caspar wears his facial hair as a well tamed beard, not liking the baby faced look that comes with being clean shaven.
Eye colour:
Blue
Height:
6' 1"
Body type:
Athletic - mostly from hauling around plants and heavy items in the greenhouse, but Caspar is also a runner. First thing in the morning - this helps him to clear his head.
Dress sense:
Caspar isn't much for fashion, after all most of his clothes get ruined from his work. However, if needed, Caspar can, and will pull off a smart outfit when the occasion requires him to.
Birthmarks:
None.
Tattoos:
None.
Scars:
Many from plants that haven't quite taken a liking to him. There aren't any big ones which stand out, but his hands are covered in a number of scars.
Piercings:
None.

Likes:
  - Morning runs
  - Plants - the more dangerous and exotic, the better.
  - Freedom.
- Being outdoors.
- Travelling.
- Marshmallows on top of hot chocolate on a cold day.
- The number 30 - it's his lucky/favourite number.
Dislikes:
  - Being cooper up all day
  - Clingy people - Caspar needs his space.
  - Politics and keeping up to date with society and it's problems.
- Frosts - it kills off his plants.
Strengths:
  - Generous to any and all people he meets.
  - Great sense of humour - though sometimes a little quirky.
  - Warm heart (mostly for his plants).
Weaknesses:
  - Sometimes Caspar makes promises (which he intends to keep) but for reasons out of his control, he can often not deliver on them.
  - With anything other than plants, he can be somewhat impatient
  - Attention to details - they're not always important, so why do you need to remember the finer details?
Positive traits:
  - Open about thoughts and feelings - no bottling.
  - Caring.
  - Kind.
- Street smart more than book smart, which has allowed him to work through many problems without getting a scratch.
- Relatively social, is not afraid to let himself relax with others.
Negative traits:
  - Often says what he thinks, which many take for him being rude, but is simply blunt honesty.
  - Can get lost in his work and forget what he promised/should be doing.
  - Quirky.

Caspar had grown up in the city of Dublin, as the middle of three boys, he knew how to hold his own from a young age, despite being a little different to the others. Now, this wasn't as heightened when Caspar was younger, he did the things all the other boys did, but sometimes he would be happy sitting with the girls and playing with daisies.
The boys had tried to mock him for this, but after a fist fight at the age of seven, Caspar had asserted himself as not being a target for bullying.
Caspar's first sign of magic had been when he'd been playing with the daisies with the girls and he'd been struggling to put the chain together. His magical abilities had taken over, and woven a whole chain in a matter of seconds, leaving the poor Muggle children terrified as they ran screaming.
Caspar had received his letter at eleven like all other wizarding children, and soon after had gone to Hogwarts. Being sorted in to Hufflepuff, Caspar thrived with his friends from the house, finding a deeper love for Herbology and immersing himself in his studies. By his seventh year, Caspar had been helping the professor with the plants, and achieved the highest grade in his year for Herbology.
Moving in to University, Caspar took every opportunity to learn more about plants and after four years, Caspar had worked for his degree, and Masters in Herbology. From there, he travelled the world to explore plants in their natural habitats before returning to the UK in the hopes of becoming the Herbology professor at Hogwarts School of Witchcraft & Wizardry.

Mother:
Name:
Kassidy Loverin   
Age:
56   
Living or Deceased:
Living   
Blood type or Species:
Halfblood   
Occupation:
Housewife
Father:
Name:
Fergus Loverin   
Age:
60   
Living or Deceased:
Living   
Blood type or Species:
Halfblood   
Occupation:
Retired Ministry Official
Siblings:
Name:
Braden Loverin   
Age:
33   
Living or Deceased:
Living   
Blood type or Species:
Halfblood   
Occupation:
Prophet Reporter
Siblings:
Name:
Rowan Loverin   
Age:
27   
Living or Deceased:
Living   
Blood type or Species:
Halfblood   
Occupation:
Magizoologist

The Loverin family have been a magical family for as long as anyone can remember. Though, no one living can remember where it started. They have never been a family of power within the Wizarding World, they have simply been around.
Kassidy and Fergus met at a bar (how Irish) one evening at a mutual friend's party. At this time they were both young, and highly influenced by friends to get together. They resisted that evening, though they got to know one another quite well over drinks. After that evening, Fergus had arranged for another meeting to take place, after a number of dates, they became officially together, and six months later, Fergus proposed. The marriage was only two months later, a low key affair, and a month after that, Kassidy fell pregnant with their first child.